A monk, a borrowed bamboo stick and world peace
I just took my shoes off to explore the World Peace Pagoda only to have a man point out two leeches on my ankle gorging on my blood. I know we're at a spot promoting non-violence but I hand Ross, a visiting staff member from GVI in India, my lighter with the intention of having him burn them off. But a charismatic monk with an authoritative voice stops us. The monk reassures me that leeches only suck bad blood. I want to argue but somehow my mouth refuses to disagree with a monk.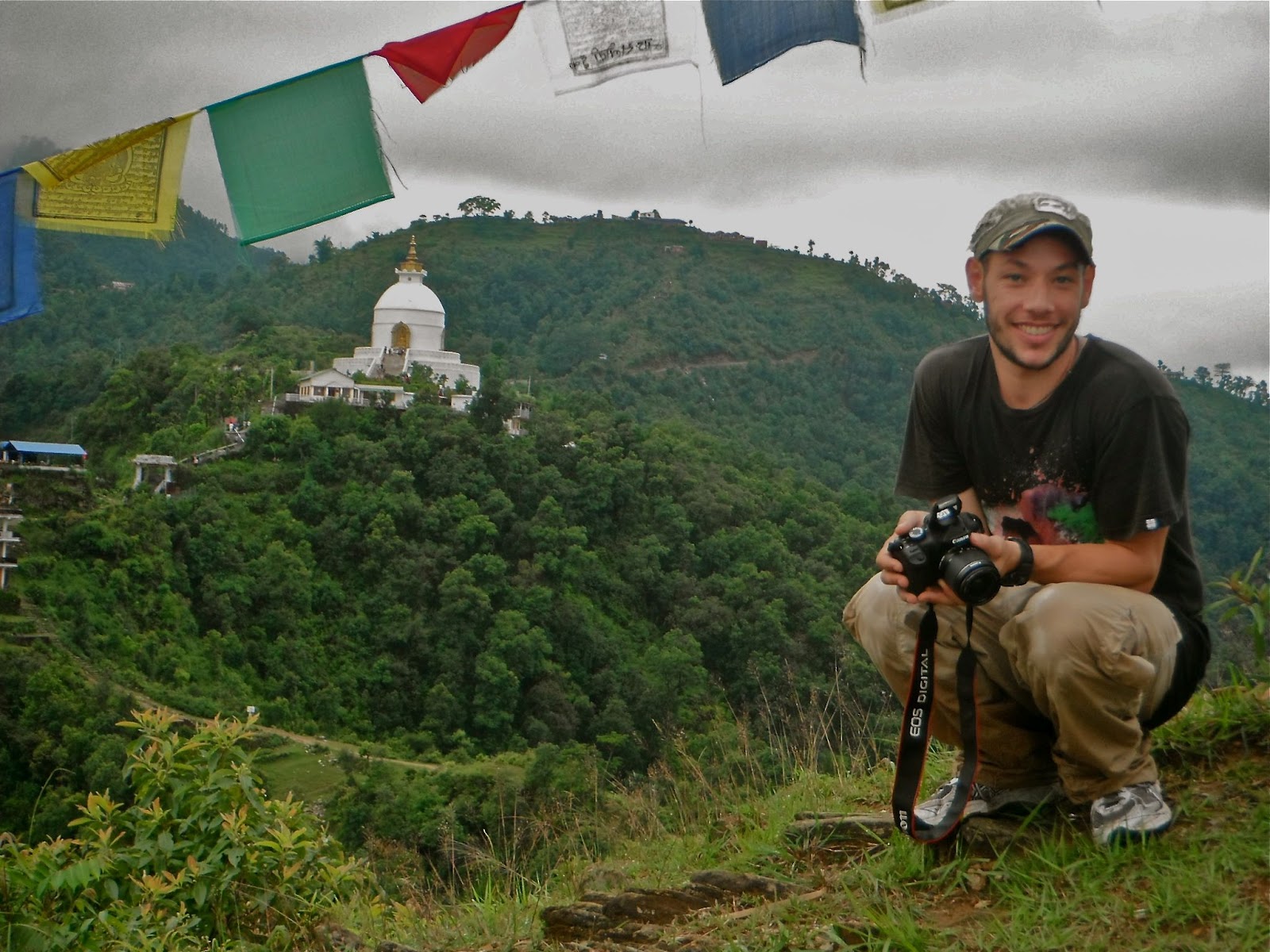 I look away from the leeches and stare at the pagoda. From lakeside, Ross and I hired a boat and hiked up the small mountain or maybe it's a hill, it only took us about an hour. This pagoda is one of 80 similar establishments built to encourage well, world peace. It is perched perfectly for panoramic views back towards the Phewa Tal Lake and Pokhara city itself. This location is also suppose to have stunning views of the Himelayas but right now it's monsoon season and the clouds are heavy and obscuring the looming mountains.
I'm ready to climb the white staircase and wander around the pagoda but a crowd has gathered around to look at the, now giant, leeches on my foot. I roll my eyes, wishing I had shaved my legs this morning. My new monk friend borrows a bamboo walking stick from someone and starts to pry the leeches off. I want to argue-I think I remember something about leeches regurgitating in to their host when pried loose, but again, I find that I can't dispute the words of a monk.
I've been here less than five minutes and so far this world peace pagoda really has brought a group of people from around the world together. Well, the pagoda and my leeches. There are some squeamish Korean girls, some guys from India who I think are wide-eyed behind their sunglasses and some Nepali children who are teaching me the word for worm in their language. The monk pries the leeches free with the borrowed bamboo stick and the Koreans scream. I try to reassure the girls with the only Korean words I know, 'sah-rin-hey-jyo' I love you.
Subscribe to our Blog
GVI on Instagram
Sorry:

- Instagram feed not found.
GVI on Facebook