29/04/2011 - Earth Day at Curieuse Base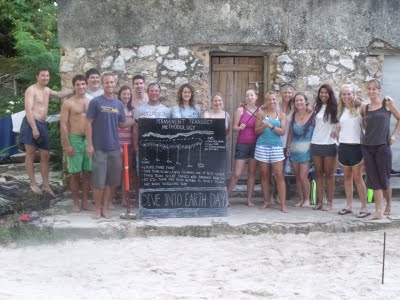 Friday 22nd April began just like any other day on Curieuse – early, and with a delicious and nutritious bowl of porridge. However, this was the 36th annual Earth Day (www.earthday2011.com) – an international event aimed at raising awareness of environmental issues and encouraging everyone to get involved in any way they can. We would be setting up four brand new permanent transects at our sites Anse Petit Cours, Anse Papaie, Coral Garden and new site Burt's Bank (named after our esteemed Science Co-ordinator and Queen of Bread, April J. Burt).
The 25 metre transects were successfully set up by our dive teams – equipped with tape measures, metal stakes and, of course, a 14lb sledgehammer(!) – so that we can monitor the corals for diseases and early signs of any bleaching events. Everybody enjoyed themselves – especially the sight of the staff becoming accustomed to the use of sledgehammers underwater – we were even joined by a few aquatic friends, spotting two green turtles, a hawksbill and a lemon shark! An entertaining and productive Earth Day for us here on Curieuse base – we hope you had a good one too J
Subscribe to our Blog
GVI on Instagram
Sorry:

- Instagram feed not found.
GVI on Facebook