12/12/13 Weekly Update from Cape Town: Team Leadership, Beards Turkey Day
By Kate, Base Manager
5 years ago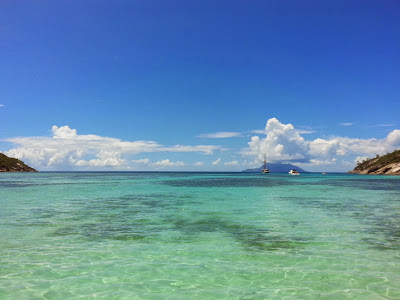 It's been another busy week at Cap Ternay, and not just because of all the diving! Divemaster interns Chris, Alex, Marianne and Heather led their management days as part of their Team Leadership course. This means they sit down with me and learn how to do the schedule for a day, making sure the boat gets out when the tides allow, assigning divers to do surveys, making sure all the duties on base get done and overseeing the day overall. Inevitably things change, so they have to be flexible and make appropriate changes to schedule on their management day. They also have to give individual presentations to the rest of the volunteers and staff on a topic of their choosing. Chris taught us about the importance of sea grass, Alex informed us about the destruction crown of thorns can cause to coral reefs and Heather led us on surveys looking for various reptiles and other creatures, similar to habitat surveys she carried out at her job back home in her "real life" before she joined GVI as a Divemaster Intern.
As Christmas is approaching, staff and volunteers have been raising extra money by doing fund raisers on base including raffles, tournaments and the "Battle of the Beards." The men of Cap Ternay have been growing their beards for the past month to raise money for our Charitable Trust, the President's Village Children's Home. Check out the website here: http://www.justgiving.com/GVICapTernay-BattleOfTheBeards
Thanks to all the generous donations and participation from the staff and volunteers, we've raised over 500 GBP here on base, which is incredible! That money will be used to purchase individual Christmas presents for each of the children at the President's Village Children's Home. On Wednesday, the "Battle of the Beards" ended with an epic facial hair showdown. Each male volunteer had a female volunteer pick the facial hair design for the competition. Scholar Finn won by a landslide with this styling facial hairdo, designed by staff member Sam.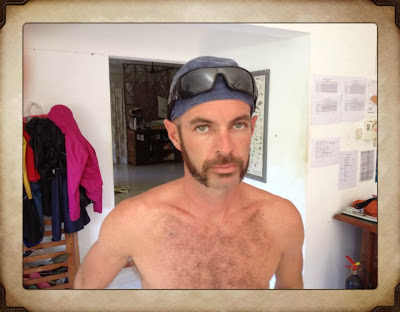 After a week of activities and diving, we had a big Thanksgiving feast on Thursday night to celebrate the American holiday . The volunteers played American Football in the afternoon as well, as most Americans do spend a portion of their "Turkey Day" watching football games. We also told "The Story of Thanksgiving" to the rest of the non-American volunteers who didn't quite understand what gratitude, football, turkey and stuffing had to do with any type of holiday . In case you don't know, Thanksgiving is a day the last Thursday in November where Americans sit down to a big meal together and give thanks for the good things in life. Traditionally, the meal consists of any number of the following: turkey, stuffing, mashed potatoes, gravy, green beans, sweet potatoes and cranberry sauce. We didn't have all those ingredients here, but managed to make a pretty good meal of roast chicken, mashed potatoes, gravy, homemade stuffing, and homemade green bean casserole. Everyone was very thankful and very stuffed by the end of the meal!
This week we are looking forward to plankton pull and turtle walks, completing surveys at some long distance dive sites and having a big Christmas dinner at the President's Village Children's Home where we will give them all their gifts purchased with the funds raised by volunteers.