03/07/2013 - Dexter, Digby, Tweets and much more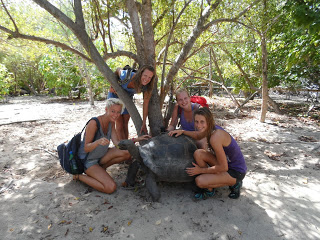 Unbelievable, but true! These words totally describe the whole time on Curieuse.
Unglaublich, aber wahr. Diese Worte beschreiben schon die gesamte Zeit hier auf Curieuse, die sich so langsam dem Ende zuneigt.
The first sight you can catch from Dexter of the small island is unreal. In front of a picture-like sunset, Curieuse presents her stunning profile. The camp is located at Anse St. Jose on the south of the island. Containing 2 sleeping lodges, kitchen, eating room, toilets and a volleyball pitch. The first days involve a lot of learning. But after this time the field work starts and you put into practise what you've learnt.
Der erste Blick, den man bei der Ankunft auf das kleine Inselchen erlangt, ist unreal. Vor einem malerischen Sonnenuntergang praesentiert Curieuse stolz ihr praechtiges Profil. Das Camp befindet sich am suedlich gelegenen Strand Anse St. Jose. Ausgestattet mit 2 Schlafhuetten, Kueche, Wohnzimmer, Toiletten und Volleyballfeld begruesst das Camp die Neuankoemmlinge. Die ersten Tage bestehen aus viel Theorie und Praesentationen ueber die Arbeit. Doch schon nach einigen Tagen kann man sein Wissen in der Praxis unter Beweis stellen.
If a day is about coco de mer it generally starts pretty early at 05:30. But waking up early is it worth when you're enjoying the stunning view and the sunrise from top of the hills. After big nuts and up to 100 marked trees you can be proud going back. The "Tweets" are similar, with point counts, categorizing all birds you can hear or see. But the work with the giant tortoises isn't comparable to anything else. Everyone comes with their own personality. Relaxing on Anse Badameir or Grand Anse becomes your well-earned reward for completing the survey.
Wenn der Tag sich um die Coco De Mer dreht, geht es schon gegen 05:30 in der frueh los. Das fruehe Aufstehen macht sich aber durch den unglaublichen Ausblick und den Sonnenaufgang, den man von den bewaldeten Bergen erhaelt, bezahlt. Nach riesigen Kokosnuessen und bis zu 100 markierten Baeumen kann man sich stolz auf den Rueckweg machen. Aehnlich geht es bei den "Tweets" vor, bei denen man je 10 Minuten an einer Stelle verharrt um die Voegel, die man sieht und hoert zu kategorisieren. Dann kommen da noch die Mangrovenuntersuchungen, wo es vorkommen kann, dass wir zu den markierten Punkten schwimmen muessen um Ergebnisse zu bekommen.

 

Die Arbeit mit den Riesenschildkroeten ist kaum vergleichbar mit etwas anderem. Die Tiere, jedes mit seiner eigenen Persoenlichkeit ueben eine starke Faszinierung aus. Auch lange, heisse und steile Aufstiege machen sich durch das gemuetliche Entgegenstrecken eines faltigen Riesenschildkroetenhalses bezahlt und stillen jeden Hunger oder Durst.
The people I've met here make the work fun and the experience even better. After early wake ups and long working days you deserve a cool seybrew and homemade bread.

 
Durch die Menschen, die ich hier getroffen habe macht das arbeiten Spass und verdreifacht das Glueck an so einem faszinierenden, unbeschreiblichen Ort arbeiten zu duerfen.

 

Auch fruehes Aufstehen und langes Arbeiten zerstoert niemals die Vorfreue auf ein gekuehltes Seybrew und selbstgebackenes Brot beim Abendessen in gemuetlicher Runde.
It s hard to describe the impressions and experiences we've gained here.  All in all, a life changing experience, which is impossible to forget.  Just unbelievable, but true.
Alles in allem eine abwechslungsreiche und lebensveraenderte Erfahrung, die ich nicht missen moechte. Eben einfach unglaublich, aber wahr.

 

 
Marie-Luise, 18,  Deutschland