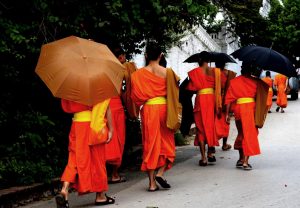 Discover the ancient country of Laos when you volunteer with GVI on critical community development projects throughout the city of Luang Prabang.
Although tourism has picked up in Laos over recent years, it is still one of the poorest countries in the world and is largely an agricultural country. By volunteering in Laos with GVI, you can contribute to sustainable projects that aim to have a long-term impact on the lives of local community members and their futures.
Spend your gap year, career break or volunteering holiday exploring a land rich in culture and ornate temples, as you make a difference teaching English to young Buddhist monks or volunteering with children on a variety of childcare initiatives.
Have a look at these 10 Awesome Things To Do In Luang Prabang.
GVI has been operating volunteer projects all over the world for the past 14 years, and our projects in Laos are no different. We are proud of our approach of establishing long-term and sustainable projects, in which the local community is always consulted first and foremost in order to determine their needs. With the contribution of volunteers, we work together in partnership to achieve these goals.
PROGRAM SEARCH
Find you perfect program using our advanced search.
Search now

GVI BROCHURES
Choose from our selection of brochures
View Brochures