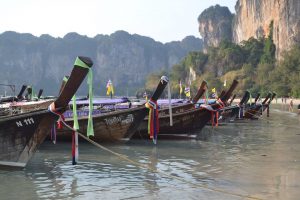 Volunteer with GVI in Thailand and discover a land surrounded by stunning golden beaches, intricate temples and a rich culture. Although Thailand has a thriving tourism industry, there are pockets of poorer communities who live below the poverty line and are lacking basic amenities. Thailand is also home to a variety of fauna and flora that are both unique, diverse and in some cases endangered.
Whether you are on your gap year, career break or volunteering holiday, you can help make a sustainable difference in either the Chiang Mai or Phang Mai province. Choose from a variety of projects focused on either:
When you volunteer in Thailand, adventure is around every corner, – use the opportunity to be immersed in the local culture with chances to explore local attractions in your downtime. Our base in Chiang Mai is surrounded by breathtaking mountainous scenery in northern Thailand and project work itself takes place in the Mae Chaem District, a 5-hour journey into the mountains, where the famous Karen elephant-keeping communities reside and have shared a unique and sacred relationship with elephants for hundreds of years. In Phang Nga we work towards marine conservation, environmental education and educational enhancement through teaching, amongst some of the world's most dramatic and beautiful scenery. Phang Nga is made up of white sandy beaches, tropical islands, amazing limestone rock formations and a rich culture.
PROGRAM SEARCH
Find you perfect program using our advanced search.
Search now

GVI BROCHURES
Choose from our selection of brochures
View Brochures