'The International Rainwater Harvesting Alliance (IRHA) considers Global Vision International Fiji as an excellent example of locally based volunteer, not for profit organization engaged in assisting communities to increase access to safe drinking water through rainwater harvesting. IRHA works to promote the experience of GVI Fiji in small islands in other parts of the world.'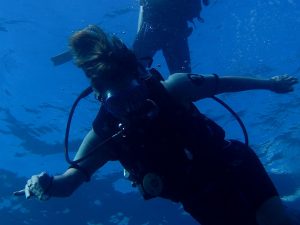 Volunteer in Fiji and discover an island nation teething with over 1500 species of marine animals! Based in rural Fijian communities, you will have the unique opportunity to work alongside the local people while experiencing an unfiltered look into their daily lives and culture.
Fiji is the ideal location for your gap year, career break or volunteering holiday, if you are interests lie in marine conservation, working with children or community development.
Gain your PADI Divemaster while working on crucial tropical coral reefs and fish species research
Teach English
Contribute to important Women's Empowerment initiatives, or
Help develop important infrastructure for future generations.
Check out our exciting and insightful blog article about 7 Ways To Be A More Responsible Diver!
GVI has been operating volunteer projects all over the world for the past 14 years, and our projects in Fiji are no different. We are proud of our approach of establishing long-term and sustainable projects, in which the local community is always consulted first and foremost in order to determine their needs. With the contribution of volunteers, we work together in partnership to achieve these goals.
PROGRAM SEARCH
Find you perfect program using our advanced search.
Search now

GVI BROCHURES
Choose from our selection of brochures
View Brochures