Testimonial from Matthew McClelland
The effect is far more reaching than what I can simply write. It's life changing, humbling and exciting. I loved the fact that you could leave your footprint on GVI, and vice versa. Are you ready to leave yours?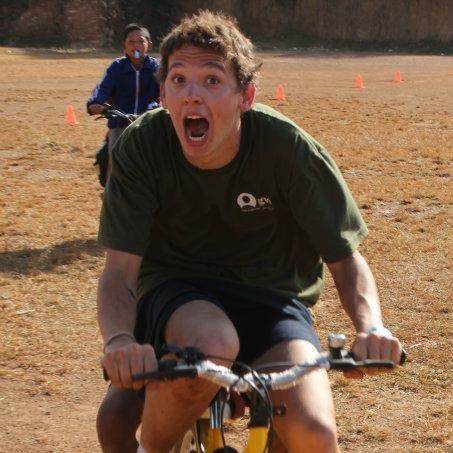 Huay Pakoot, a small northern village in remote Thailand, is cradled away in the expansive mountains somewhat protected from the 21st century. With families cooking over wood stoves, weaving their own clothes and foraging their food from the environment around them; you would not quite believe that the elephant tourism industry would have such a stronghold over a community such as GVI's partner. A complicated mess, whereby the withholding of an elephant from inhumane tourist treks comes second to the family income bares heavy consequences, not only for the immediate family, village and surrounding villages, but the phenomenal creature itself. GVI's presence is not an empty handed gesture unlike some quick fix models, but an opportunity to develop new foundations for people to grow and prosper from.  Unlike many supposedly "eco-tourism" programs, none quite grasp this concept with the multi-levelled approach that I experienced in this literally awe-inspiring village. The early morning wakeups, I thought, would be a hassle. Yet with the scenery, and the somewhat vocal roosters, it was a joy to wake up to the beautiful village with a hot breakfast not too far away. After breakfast in the peaceful village, depending on the day the volunteers would go elephant grass cutting or basket weaving, teaching English to the Mahouts (elephant trainers) and sometimes just lazing about and taking in the wonderful community. Although the elephants definitely drew me to this program, the cultural awakening of the Thai customs became my favourite experience within my time spent on the program. Being at the forefront of learning and developing a handbook to learn a new language is phenomenal, and sharing this experience with a group of equally inspired volunteers only inspired me even further to work harder! Not to neglect the elephants, though as they are, of course, wonderful. From your first day feeding your elephant bananas, to health checks every second day, it seems as if there is an instant connection. The beauty of walking with them comes not only from Tong Dees' (an older elephant) ridiculously slow pace but also the cheekiness of the younger calves.  The hikes were, again, awe-inspiring, and would generally span for 2-3 hours, with every second day being data collection. My time spent in Huay Pakoot was unforgettable, unimaginably rewarding and something I would definitely tell others to do. GVI has left me with wonder and an honesty that can only inspire you to go back and do more. Currently studying Chiropractic, I am looking at ways to further work in underprivileged countries and support children with developmental disabilities for access to much needed health care. But the effect is far reaching than what I can simply write. It's life changing, humbling and exciting. I loved the fact that you could leave your footprint on GVI, and vice versa. The only question now is: are you ready to leave yours?
- Matthew McClelland