SHORT TERM VOLUNTEERING ABROAD
For over 20 years, GVI has been operating globally and helping volunteers find their perfect project. Short term volunteering opportunities are offered in durations from one week, all of which allow you to make a sustainable long term difference in one of our amazing locations around the world. 
GVI allows individuals, families or groups to make the most of their time abroad, with various short term program options. You can also combine our projects to create unique multi-country combos as we offer volunteering opportunities across five continents – Africa, Asia, Australasia, Europe and Latin America.
You can choose to support environmental initiatives in wildlife and marine conservation or education and community development projects. So even if you only have a week or two, you can still have a meaningful experience abroad, and make your mark during short term volunteering abroad.
Short term volunteering abroad allows you to contribute towards the United Nations Sustainable Development Goals (UN SDGs). So if you're motivated to make an impact and are committed to choosing a sustainable volunteer program, there are lots of ways to get involved in short-term projects that will build on these goals.
Your health and safety is our top priority which is why we're compliant with British Standard 8848, a set of guidelines designed to protect those booking adventure trips abroad. To learn more about the specifics of our safety policies see our detailed health and safety and social distancing and hygiene pages.
Download our program brochures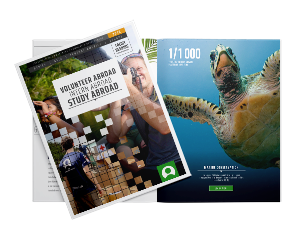 2017 is just around the corner! Is volunteering on your New Year resolutions list? If not, here are 17 reasons why you should [...]
Short-term volunteering can be as effective as volunteering over the long term. How? Read this article to find out.
Mindfulness, the art of paying attention without judgement, has many benefits. Volunteering abroad ethically teaches us to [...]
Our Short Term Volunteering Programs