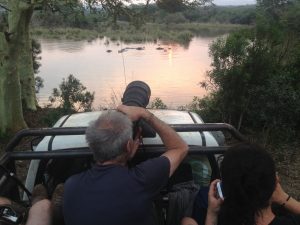 Bushwise operations are situated in the Limpopo Province of South Africa, approximately 500km north east of Johannesburg and just 1 hour's drive from the western gates of Kruger National Park. Bushwise is an accredited member of The Field Guides Association of Southern Africa (FGASA).
The Bushwise operations are focused on wildlife research and safari field guide training, offering participants a chance to receive a comprehensive FGASA Level 1 Professional Training Course and a first-hand experience of what life in the industry is like on a daily basis. You can look forward to encountering Africa's incredible wildlife in your day to day duties and training.
The base camp is set in Mahlala with the towering Drakensberg escarpment to the west; this stunning area of South Africa's lowveld offers breathtaking views, diverse landscapes and some of the best Big 5 game-viewing opportunities in Southern Africa. This is your chance to build-up your resume and kickstart a career in wildlife conservation!

GVI BROCHURES
Choose from our selection of brochures
After graduation, with a First class Honours in Zoology, I desperately tried to get a job in conservation and research in Africa, but no one would take me seriously with no experience in the field around dangerous animals. I made the decision to do a field guiding course in Africa, which was the best career choice I ever made to get into wildlife conservation. Later in my career I worked for GVI for 8 years, setting up wildlife and community conservation research programmes across Africa. After which I set up Bushwise to give other young people the opportunity I had to kick start their conservation careers.
Sophie Niemann
As a result of completing Bushwise, the qualifications and the experience, I was able to further my education career.
I am now working at a prestigious school in a position I have dreamed of for the last ten years. I'm not returning to the classroom but working with teenagers on an 8 week program to learn about themselves, get involved with community and learn about our history and indigenous culture here in Australia.
Bushwise definitely gave me the "edge" over other applicants for the job.
Viv Eckersley,
What stands out for me on a CV is experience, this is vital if you want to volunteer or work in a field based conservation group. It is great if you have a good degree but what really makes you a potential team member is experience, being able to be safe in the bush, work as a team in a remote location, identify species, have a deeper understanding of ecology and behaviour through experience and showing you can deal with living in remote and potentially dangerous locations. Bushwise enables you to learn the skills you cannot learn out of a textbook in a professional and safe environment.
Dr Kate Evan
OUR PROGRAMS IN BUSHWISE LIMPOPO