GVI's sister company, Bushwise, is a Field Guide College in the heart of South Africa's bushveld. Bushwise is an accredited FGASA training provider with the highest success rate in passing the FGASA exams, and also securing field guiding jobs post-internship.
Bushwise's Story
Co-founder Sophie Newman joined GVI in its infancy, where she set up and ran the GVI Karongwe Wildlife Expedition. Back then, GVI consisted only of Sophie in the field and the founder of GVI, Richard Walton, who manned the office in the UK. As GVI grew Sophie went on to set up and run wildlife and community conservation programs across Africa. These included predator projects in Venetia, South Africa, community and marine conservation programs in Kenya, and SANParks internship programs, to name a few.
During her 8 years as a Regional Director for GVI, she found it a constant battle to find staff with the qualifications, skills, and ethical professionalism GVI required. There was clearly a great need to assist young passionate conservationists and wildlife enthusiasts in getting these skills and qualifications to start their career. So, Richard and Sophie embarked on setting up Bushwise Field Guides. The vision was to develop a high quality, all-inclusive training course, which offered a platform for students to gain all the relevant qualifications, practical experience and importantly, develop the professional ethics and soft skills.
Bushwise ran its first course back in 2006 at Mahlahla campus, and looking back to the early days, Bushwise's ethos and vision has remained the same, but the program has evolved tremendously. Over the years we have focused all our attention on the long-term courses, which provides the best platform to gain the quantity and quality of knowledge and skills needed. We work closely with the lodges to develop and tweak the program as the industry changes. This ensures our students get the necessary experience to benefit not just their employment but also adhere to the lodges' standards. We have added numerous qualifications, fine-tuned the training, refined our soft skills development, and built an exceptional Bushwise team.
We will continue to work proactively with the lodges in this ever-changing industry, to ensure our Bushwise course is the most relevant and of the highest standard. We also guarantee that our graduates are of the highest standard possible. Not only do we have a lasting relationship with our alumni, but Bushwise plans to develop additional courses and programs to build on their skills, and further their careers.
Bushwise operations are situated in the Limpopo Province of South Africa, approximately 500km north east of Johannesburg and just 1 hour's drive from the western gates of Kruger National Park. Bushwise is an accredited member of The Field Guides Association of Southern Africa (FGASA).
The Bushwise operations are focused on wildlife research and safari field guide training, offering participants a chance to receive a comprehensive FGASA Level 1 Professional Training Course and a first-hand experience of what life in the industry is like on a daily basis. You can look forward to encountering Africa's incredible wildlife in your day to day duties and training.
The base camp is set in Mahlala with the towering Drakensberg escarpment to the west; this stunning area of South Africa's lowveld offers breathtaking views, diverse landscapes and some of the best Big 5 game-viewing opportunities in Southern Africa. This is your chance to build-up your resume and kickstart a career in wildlife conservation!
After graduation, with a First class Honours in Zoology, I desperately tried to get a job in conservation and research in Africa, but no one would take me seriously with no experience in the field around dangerous animals. I made the decision to do a field guiding course in Africa, which was the best career choice I ever made to get into wildlife conservation. Later in my career I worked for GVI for 8 years, setting up wildlife and community conservation research programmes across Africa. After which I set up Bushwise to give other young people the opportunity I had to kick start their conservation careers.
Download our program brochures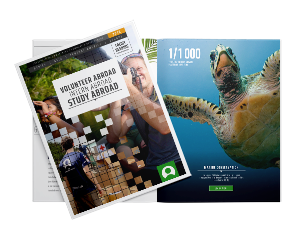 OUR PROGRAMS WITH BUSHWISE