Zimanga Volunteers Lending a Hand
The Zimanga game reserve manager, Charl, recently recruited the help of volunteers with his newly developed bird hide. These hides are specially designed for wildlife photography – an eco-tourism initiative that Zimanga intends to pursue in its goal of long term sustainability. The bird hide was situated next to a small dam that animals frequently visit. It is therefore considered the perfect location for spectacular animal sightings. Volunteers assisted in clearing the surrounding bush land in order to avoid any obstructions of the view from the hide. The following day they went back with a little bit of elbow grease to scrub the hide inside and out to make it a more comfortable cubby hole.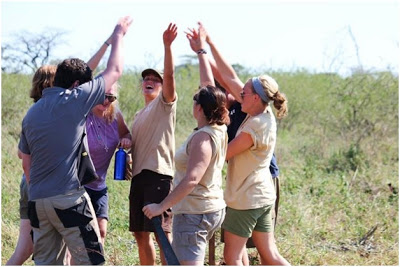 The Zimanga Team
Subscribe to our Blog
GVI on Instagram
Sorry:

- Instagram feed not found.
GVI on Facebook