Work Hard, Play Hard--A Weekend Trip to Munnar
By Kavita Chopra
5 years ago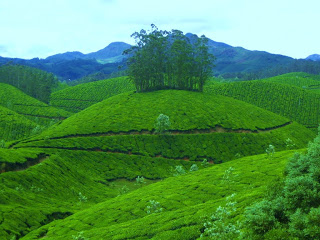 Crack of dawn wake up and onto a bus feeling more than a little motion sick – but a couple ginger tablets soon settled me and by then we were already at our first stop – the washing of the elephants! Afterwards we enjoyed a masala dosa breakfast with my new favourite thing, Indian coffee (a milky, sweet, slightly caffeinated brew) and grabbed snacks of ghatia and tapioca (dalo) chips for the road. It was around this time that the bus turned into a dance party thanks to our fabulous drivers Malayalam and Tamil tracks, here everyone got to practise their Bollywood dance moves!
Then there was an epic waterfall or two before the real elephant experience – where I was described as a 4yr old on Christmas morning – though I've been up close to a couple elephants in my time – this was the most hands on experience – of course a super touristy wee ride, but I wasn't on a seat – just on Laxmi's back where I could feel each vertebrate and every muscle as she climbed up and down the wee hills. Here the incredibly friendly handler/paparazzi photographer really made the experience, especially when I got to hug her trunk and in the end got a blessing from the aptly named Laxmi. All for just 350Rs + tip – I couldn't recommend this more!
After some beautiful scenery we arrived at our lush hotel tucked away in the mountains where our charming hosts served us black tea and French fries – which are usually fried with curry leaves and especially delicious! Then it was someone's brilliant idea to go and see the tea plantations – in the pouring rain!!! This hike (which I undertook with my sulu wrapped around my shoulders, sandals and an umbrella) was not only a death defying feat – at least you would've thought it was with all the screaming – but an educational experience (well whatever information you could hear above the rain), complete with my first each leech bite – and for some unlucky people their 1st – 4th bites by the little suckers!!!!! It's ok though, they only suck out the bad blood – we basically all got free organic Ayurvedic treatments! Even though we didn't see the tea plantations in ideal conditions, they were still incredible and something I'll never forget.
An hour or so later we were glad to be back at our lush accommodation – where there were more firsts for some people – not for me though, a balti* bath used to be a treat for me as a kid! An amazing dinner, caramboard, games, dance party/battles and D&Ms* completed the evening.
In the morning we started early to the Tea Museum where we got the back story of the region and a great cuppa. Then after a quick shop in Munnar town we were on the long windy road again headed home. Napping, a hand massage and some more dancing helped pass the time, but it was definitely a long way to go for 1 night. The scenery on the way in parts reminded me of Aotearoa – but the vast mountains and valleys with some settled fog and tea as far as the eye could see was something I'd never seen before and so much more than I had imagined – the pictures I will eventually post won't do it justice – but seeing Munnar this weekend made me want to explore every inch of this varied and exciting country – it's not just a tag line, INCREDIBLE INDIA
Kavita
*Balti = Bucket. Balti bath means bathing from a bucket of water
*D&M = Deep and meaningful conversation