Windy adventures & Lobster Festival show in Punta Allen!
Once again I am sitting here and writing this week's blog. For the count we are up to 8 now and soon it
is time to say goodbye to our newfound friends. I think we all hope that in our hearts this is not a final
goodbye, just a temporary solution so everyone can reload for a bit.
This week's adventures have been windy, windy and jet again windy. In turn this created load of time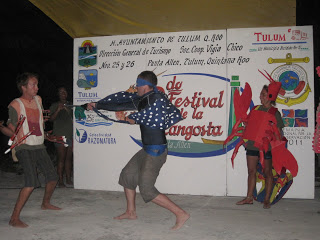 for us to prepare for a play we did this Friday. The whole event was a lobster festival which took place in a sweet little village called Punta Allen. Everything here is about the lobster fishing, which is a sustainable kind. We find that really remarkable and support it to 100%! For the children we set up this play about a lionfish who invades the home of all the  other beautiful reef creatures and doesn´t want
to share a single centimetre of reef! But as of all happy stories the hero (in this case a diver) comes and saves the day The lionfish is an invasive species so that's why it is a big subject in discussions around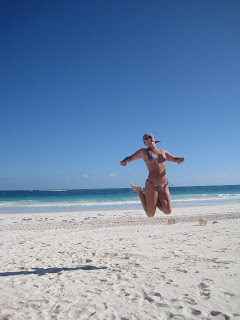 here. 
Although the play was for children, we think the grownups had a good time too!
The monitoring is doing just fine and we do the best we can while in the water! It is so exciting to have that feeling about really making something important and help out a bit
Cool sightings from the beach have also been made. Sharks have been seen so just the thought of taking a swim before or after sunset/sunrise is far, far away really cool though! With this some of us escaped to another beach for some relaxing. The beach in Tulum suited perfect and we made some cool backpacker/jumping pictures
Have a great one until you hear from us again! Hugs
Subscribe to our Blog
GVI on Instagram
Sorry:

- Instagram feed not found.
GVI on Facebook