Welcome to our new Mustang rehabilitation center blog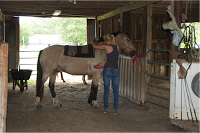 We would like to welcome you to our new blog for the newest GVI program. Not only it's a new program but it has a new work focus for GVI and we will be working in a new country…so lots of excitement!
The program – Volunteer with horses at a rehabilitation center in Florida, USA – is based in Mims, Florida. Our partners, the Wild horse rescue center are amazing and you will learn so much about mustangs and horses in general.
What is the aim of the program and what will volunteers do?
Volunteers will work at the Wild horse rescue center

The center houses Mustang horses that have been abused or completely neglected and starved
The aim is to nurse them back to health, tame them and find new caring homes for these rehabilitated mustangs
Some mustangs are deemed "wild at heart" and will not work with people, so the center has a large secluded pasture where they live.
The main tasks of the volunteers center around 4 main areas:
General horse maintenance and upkeep of the center: cleaning out enclosures and pens, changing water, feeding, grooming
Infrastructure improvements: putting up fences, painting or general maintenance
Rehabilitation tasks: feeding, walking and grooming horses, 1-on-1 time with horses in need of socialization
1-off (as needed) vet visits and support
In the next few weeks we will introduce more aspects of the work, the region, where volunteers will live and more info on what mustangs are and why they are in danger.
We look forward to providing you with more information on the project in the coming weeks and months!