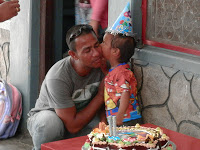 The groom-to-be Allen with his
nephew Abel
To be invited to a wedding is special. To be invited to a Nepali wedding is awesome. To be invited to a Nepali Christian wedding is a once in a lifetime experience.

Allan is an integral part of Children's Paradise, a school/pre-school for all children – able and with special needs. Being placed there is one of the most uplifting, challenging & wonderful experiences. I feel very privileged to have not only been able to attend his wedding but to help with the preparations. 
The week before Bunty, the principal of the school and, more importantly, Allan's sister, came to us to discuss the wedding preparations. The final stumbling block was the decorations. Although she could buy things none of them felt right. A sudden brainwave and we realised the nicest thing to have would be decorations with a personal touch! We wanted to contribute so before we knew it we were making flowers, streamers and balloons for the hall.
The day before the wedding was full of frantic activity. The whole family including us GVI lot piled into the hall to assemble and create out masterpiece.
It wasn't all hard work……….
but several hours later we were done.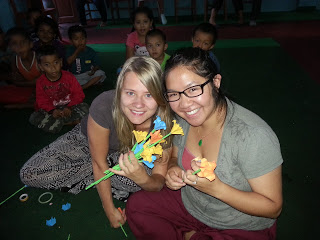 Volunteers May & Lovisa with some
of their beautiful decorations