Walk to help the children of Nomzamo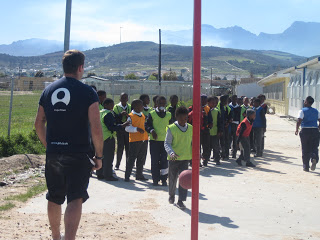 We've just come in from our Sports lesson at ACJ Primary School.  There were 60 children, 3 hula hoops and 6 cones. Our lessons are fun, we love working with the children but we can see how, with a few more resources, we can make our lessons even better! Yesterday we managed our classes with 2 balls and three bats.  Once again, good, fun lessons but the children could have far more hands-on time if they only had more equipment, the more hands-on the more skills they will develop and the more engaged they will be with their lessons.

There are three of us sports volunteers at the moment and all three of us will join fellow volunteers and venture off tomorrow on a three day walk from Cape Point to the top of Table Mountain. Our aim is to raise money for our projects and we are happy to say that some of these funds will go towards new equipment for the sports program at ACJ.
We would love to see more sports resources at ACJ and we know they will be put to good use.

 

If you'd like to support us please go to
You can also follow our progress on
Chelsea Hylton
Natalia Sarmanto
Brad Ahto
Subscribe to our Blog
GVI on Instagram
Sorry:

- Instagram feed not found.
GVI on Facebook