Volunteers visit a local Day Care Centre.
Volunteers visit a local Day Care Centre.

This week two of the GVI volunteers went to visit a local day care center, founded and supported by Madam Grace.

 

GVI volunteers work closely with Madam Grace supporting the Adult Education Group situated within Bombolulu, which provides basic education to the adults with little or no educational backgrounds.
Madam Grace and her students
The care center is an informal school situated within the Shariyako slum, and operates within a small local community church accommodating 60 children.

 

The care center provides free education for children between the ages of 3 and eight years old, who would otherwise not have the opportunity to learn basic English, Math and Science.

 

Assisted by two other volunteer teachers, Madam Grace conducts lessons for all the children from 8 am until midday.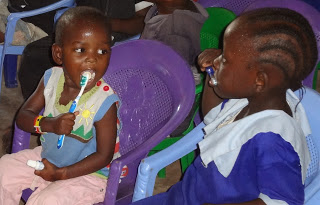 The children enjoying the taste of the toothpaste.
GVI volunteers Kerri and Amanda kindly donated toothbrushes, toothpaste, medical equipment and toys to the children, who were absolutely delighted with their new items.

 

These children don't even have the means to own toothbrushes let alone toothpaste, so these where especially well received.

 

A big thank you to Kerri and Amanda for your extreme generosity and contributions!
Subscribe to our Blog
GVI on Instagram
Sorry:

- Instagram feed not found.
GVI on Facebook