Volunteer weekends in Pez Maya
By Blue & Jen
2 years ago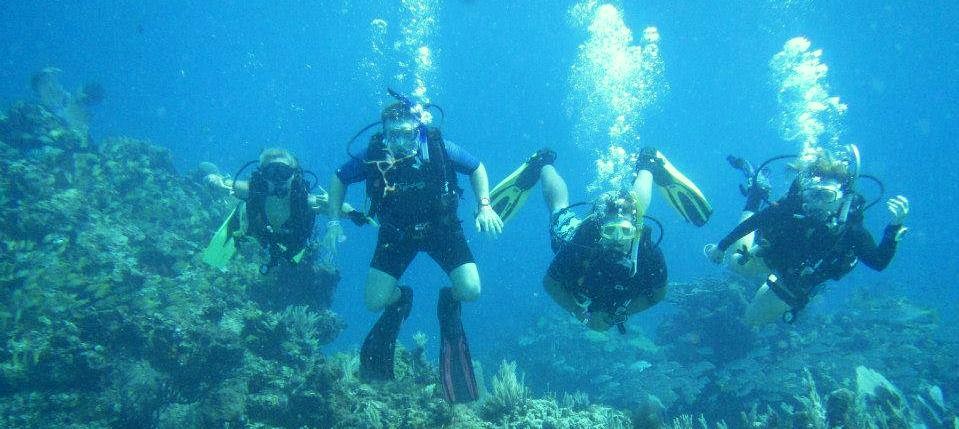 Two of our Volunteers, Jen and Blue who have been here with us for quite a while now wrote this weeks blog about what happens on volunteer weekends.
After a week of science dives we let ourselves relax and enjoy the sites/activities that Mexico has to offer. Last weekend a group of us went on the underwater museum dive. It was amazing to see the creepy faces of the statues, some of which were covered with coral, some weeping, and some even beheaded! It felt strange not to kit up ourselves, or even dress ourselves with the BCD's.
On that dive we were excited to know all the names of the fish and coral we spotted (can't take the science out of us), in fact we felt like professionals explaining to the other divers what we all saw. On the two dives we had that day we were fortunate enough to see two southern stingrays, 2 green turtles, 10 barracudas, 1 moray eel and an octopus – occupying a small stone house!
This weekend we set off for a morning of adventure at the beach. We started the day with off-road driving on quad bikes, through the jungle and across the sand. We hopped off for a spot of swimming in a crystal clear cenote, before putting our helmets back on and driving to a Mexican ranch, where we geared up for some horse riding. Trotting along the white sand beach with the waves as our soundtrack and a gentle breeze was a perfect recipe for relaxation. After which we dismounted, slid on our snorkeling gear and took to the reef, where again our fish/coral spotting skills came into practice! A green turtle and a southern stingray greeted us, as well as a school of fish. So back on the horses and a gallop back to the ranch where we were treated with local ceviche and tacos to round off a fun filled morning!
Those volunteers who preferred a more detoxing weekend found themselves relaxing by the pool, or shopping in the local markets and exploiting the free wifi!

There is always something new to explore here in Mexico, and experiencing it as a group just adds to the excitement of it all! Roll on next weekend where a group of us plan to do a deep dive in a cenote called 'The Pit'!
GVI on Instagram
Sorry:

- Instagram feed not found.