Volunteer Voice - Guanacaste Day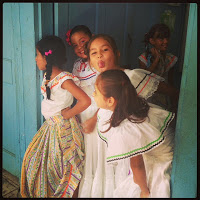 Written by Amelia Rogers – GVI Manuel Antonio Community Volunteer
This week in El Cocal we celebrated 'Guanacaste Day' as they have done on every July 25th since 1824. It is a colourful holiday that commemorates the annexation of the Guanacaste Province; formerly part of Nicaragua, to Costa Rica.
Arriving early in the morning we were met with a stack of coloured foam paper, a hot glue gun, wool and a sea of little faces holding old broomsticks. We got straight to work…hot glue, woollen 'hair' and foam paper began flying in every direction as child after child presented us with a broomstick needing a coloured horse head for the Guanecaste horse parade. There was hair to be woven and glued, eyes to be designed and finally the reigns to be attached. It was totally crazy, but lots of fun!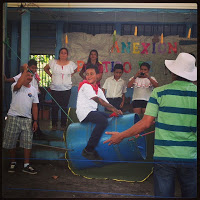 In the center of the playground was a brightly coloured bull ring complete with a blue bin or "bull" suspended on ropes at each corner for rodeo riding. My first reaction was, this is a health and safety nightmare…But then I remembered I was in El Colcal and these kids are seriously tough. 
As a spectator it was beyond entertaining and for the participants (the kids) it was great fun.
With the formalities and fun almost over the last activity of the day was the Parade. Led by the principal, the kids proudly walked through the streets of El Colcal riding their newly made horses! It was a great sight to see, red, green, blue, black and pink horse heads were dotted through-out the crowd.
It was an amazing day to be a part of and in a place that is often commented on as having little to no community spirit I was once again surprised and humbled by the community's involvement and contribution to this very special day!
Here's to the next Guanacaste Day!