Valley de Mai trip and BIG Nuts!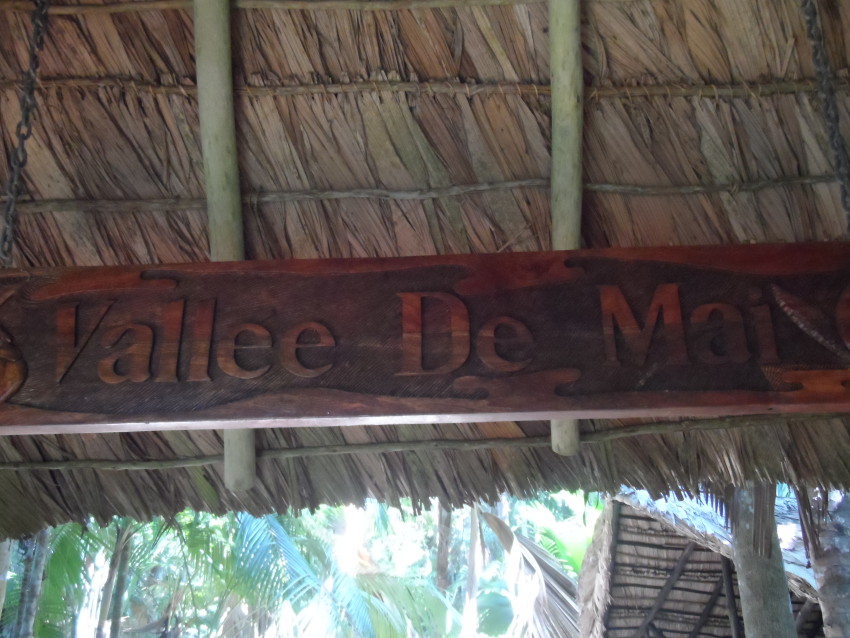 Hello Blogosphere!!!! This week was all about nuts. Big nuts. HUGE nuts. We're talking, Coco De Mer nuts!
We just took an amazing trip to Valley de Mai in Praslin, a UNESCO World Heritage site as it is the world's largest and only real forest/jungle of the Coco De Mer tree. These beauties take 25 to mature, and, once they do, another 7 years to produce a nut on the female tree. The nuts, as previously mentioned, are the largest nut on the planet – sort of like 2 large coconuts somewhat fused together. The reason for the conservation is that there is a market for these nuts. Why you ask? Well, these nuts tend to look like the front "hip area" of a woman, although some say they look like the rear. Either way, certain cultures believe that these nuts have aphrodisiac qualities so they poach them for who-knows-what. Well, we think THESE people are NUTS!! (Get it?!)
Valley de Mai is also home to the rare Seychelles Black Parrot, the blue pigeon, the bulbul, the Giant Green and Bronze Eyed Gecko, and some other rare animals. It has been recently discovered the Seychelles is genetically distinct from other black parrot species, so it was a real treat to see a few right when we got off the bus.
Enough about all this nature mumbo jumbo ;), after Valley de Mai we went to Paradise* and had the rare "wi-fi and cocktail service." This is one of the most enjoyable of the rare Seychelles gifts. Kristin and Maya destroyed banana milkshake after banana milkshake, each heavily laden with rum, although these two crazy chicks will deny it. Kristen dialed her mom and had an embarrassing conversation about naked pool-goers. (Maya and Kristen's moms: this story is based on true events.).
Every story needs a good ending, so to end the day Becky cooked some meals in her new puppy takeaway kitchen located on the beach at Cote D'Or.
The End.
*When we say "Paradise" here, we mean the hotel, not the metaphorical idea of the afterlife, although the two could be easily confused.
GVI on Instagram
Sorry:

- Instagram feed not found.