Two amazing first weeks in Paradise
By Damon Green
3 years ago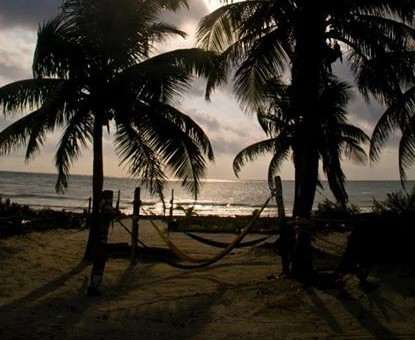 A first impression of base is described as mind blowing. Are we really going to be living in what you could only describe as paradise for the next few weeks? Waking up with the sun shinning over the Caribbean sea, casting an enchanting ray of light over the crisp morning sea. Palm trees with hammocks just in our front yard, with coconuts falling out right into our hands and providing us with unlimited coconut water and coconut meat. Base has really impressed us with what it has and of course doesn't have. Reminding us that we don't actually need flushing toilets or running hot showers and electricity. It's quite amazing that what we use to think as necessary has actually become extremely peaceful not to have.
In this phase a new group of volunteers has joined base and have learned their corals and fish of the Caribbean quickly, with a few of us getting 100% in our tests within the first few days! The staff came up with a fun way to learn them called the fish and coral game which entails quizzing everyone around the table with flash cards when the weather was foul. It was a little cloudy and rainy at the start of the phase but now the skies have cleared up and the sun is out, enabling everyone to get at least two dives in a day. Our first-time divers have now received their open water certifications and now are working towards the advanced certifications. The interns are making their way through their rescue diver certifications and will be interning in the dive shop next week! The interns, volunteers, and staff have became good friends with a great social gathering in Playa del Carmen over the weekend. We are looking forward to the start of "hut games" this week which is a series of games such and limbo, volleyball, and relay races to see which hut is the most competitive and best of course. Its time for more fun and excitement in paradise and may the best hut win.
Subscribe to our Blog
GVI on Instagram
Sorry:

- Instagram feed not found.
GVI on Facebook