Turtles, Sharks & Coco De Mer
By Sherelee Peter & Max Aldredge
3 years ago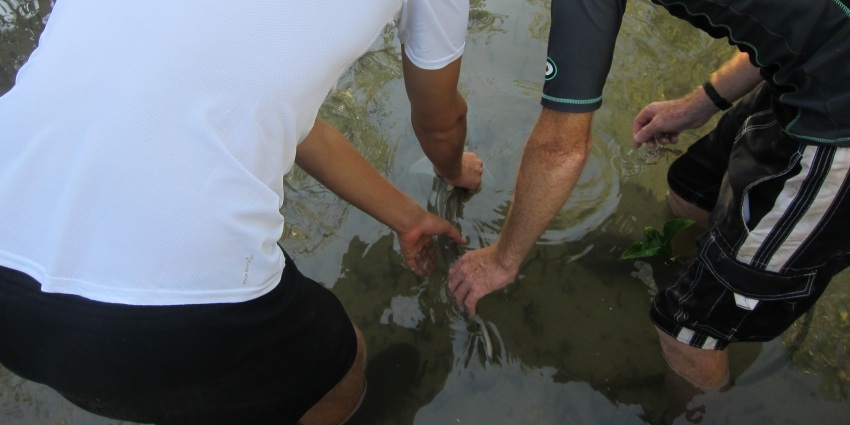 Turtles, lots of turtles this week. On the beach, in the water, we even saw hatchlings! Most of the nest successfully hatched and found their way to the water. Then when Cheryl the Biologist dug up the nest they found some baby turtles that had not made it to the surface yet. These little guys were helped along to the water and set on their way to start their new life at sea.
Sharks, lots of sharks too. Alan and the crew caught a new record high 13 baby Lemon Sharks in one morning. Their processing procedures have improved dramatically over the last week allowing the new high numbers. Alan decided to set the seine net on the ebbing tide across the mouth of the channel leading into the mangroves, which meant we successfully caught 9 sharks in one net. These baby sharks are tagged, measured, weighed and sent back out to the mangroves so we can monitor their growth and living habits over the next few years. It is quite the experience to hold a baby shark in your hands for the first time.
One of the benefits we get by working with local partner organisations such as the Seychelles Island Foundation, we got free entry into Vallee De Mai, a UNESCO World Heritage site! Vallee De Mai contains one of the three remaining natural populations of Coco de Mer left in the world (alongside our very own Curieuse Island and Fond Ferdinand, also on Praslin). Vallee de Mai contains the Seychelles largest intact forest of the endemic Coco De Mer Palm and so is a very important and popular place to visit. We caught the local bus from Cote D'or to Vallee De Mai, and to say the least we emerged from the ride well cultured. This means we were the only non natives taking what can only be described as a trip of a lifetime! We highly recommend public transportation in the Seychelles.
Another fun-filled and exciting week on Curieuse!