'Tsavo' - The 'new' leopard on the block
The past few months have featured a number of sightings of a very large leopard (Panthera pardus) that seems to roam across the majority of Karongwe's 8500 Hectares.
Despite the presence of at least three other large, territorial males, this particular male keeps popping up all over the place. Using photographs to compare spot patterns, it became clear that this particular male was responsible for killing a fully grown zebra (Equus quagga) in September 2010 and has since roamed far and wide from that area. Curious as to the identity of the leopard, we at GVI scoured our photo archives and were surprised to find that we were dealing with none other than 'Tsavo', son of research subject 'Tilo'! This photo was taken in early 2009 when still a young cub.
He was born into a litter of at least three cubs around June 2008 and was the only one to survive to sub-adulthood. He has since become independent from Tilo, who is tending to her rapidly growing and nearly self-sufficient current single male cub. It is evident that 'Tsavo' has spent the time since then growing, roaming and undoubtedly trying to find himself a territory. This was him in June 2010.
It's good to know that a familiar character that seemed to disappear for a while is doing so well. He is still under three years old, and the lack of a dewlap is testament to his youth, but it is clear from his magnificent condition that he is likely to become a serious contender. He generally seems relaxed around vehicles, and despite his typical enigmatic leopard nature, we hope to be able to keep tabs on him. Here he is as of the 5th of March 2011.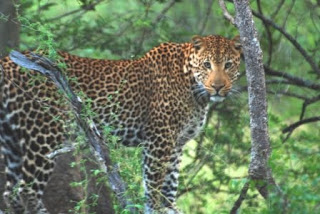 Andreas Fox
Conservation Officer and Research Assistant
GVI Karongwe
Subscribe to our Blog
GVI on Instagram
Sorry:

- Instagram feed not found.
GVI on Facebook