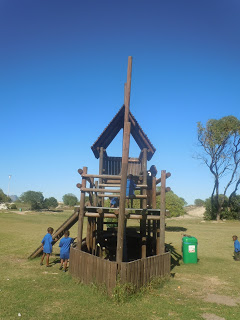 Tuesday was a fun day for the children and volunteers at Ikhayalethemba.

 

We surprised the children with a trip to the park.

 

The bus ride is always a great treat and when we got to road that travels along Strand Beach the children, as always, were so excited to see the water. We got to the park and the children were keen to play on the playground which was the shape of a giant boat. If it involves climbing, the children are always up for it so they had a wonderful time encouraging the volunteers to join them up aboard the ship.

 

We also had fun with hula hoops and there was lots of bubble blowing.

 

We had a picnic for snack time and then played a little more.

 

An icy pole to cool us down at the end of the activities and it was time to pack up and head home.

 

The toddlers were asleep by the time we got to the end of the road but surprisingly the
other children all still had the energy to stay awake for the bus ride home.

 

We were back just in time for lunch.

 
It was a fun morning for both the volunteers and children.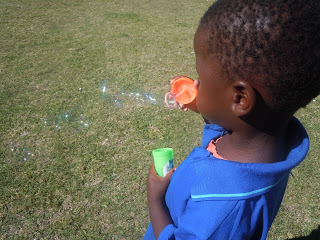 Cheryl Martin