Things I never thought I'd learn
By Anna Boughen
3 years ago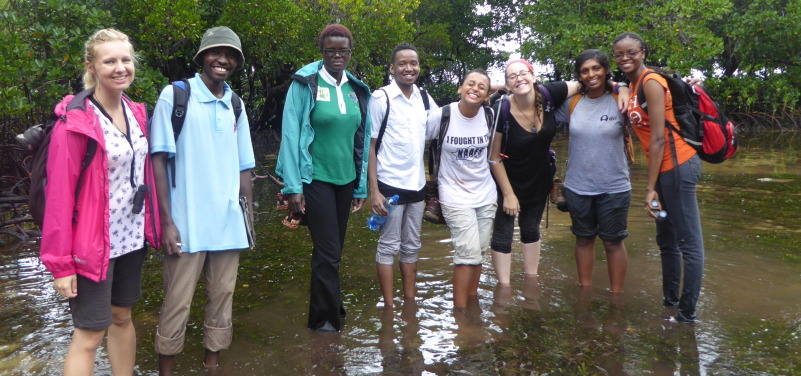 As I write this post it is a few days before the end of my time on the Forest Conservation program in Shimoni, Kenya. I have now been in this idyllic part of the world for nearly five weeks after deciding I needed a change from the London rat-race, and what a five weeks it's been. I intended to come out here and try something new and I've certainly done that!
I myself have been working on Colobus characterisation and travel patterns within their home range with Heather, Benja and Felix, the amazing staff, as well as (until the end of last week) four Kenyan National Scholars who have all taught me more than I thought I'd ever know about coastal forest, monkeys, birding and tidal shelf movements. As a former estate agent from London with absolutely no scientific background whatsoever I thought I'd write a few thoughts down to reassure people out there that science can be taught in four weeks – and a few other things I've picked up along the way! So in no particular order, here they are:
1) Cooking for 24 people is straightforward. This is actually true – all you need is copious amounts of time to chop all the vegetables. It can be helpful to have a willing friend on standby to help with this, especially if they're hungry. It gets the job done quicker, and means you're not standing over a hot stove alone.
4) You can deep fry anything. Even carrots.
5) You can learn a decent standard of basic Swahili in 3 days. That's 3 days of 8-5, paying attention. Not 3 days of falling asleep with a hangover. It can be done and the locals will smile at you, and you can put your new found skills to the test reducing prices on your shopping by bargaining down.
6) A new one here – I have found new patience in staring up into the trees for hours on end looking at monkey bottoms trying to work out what sex they are. This is tough work – someone has to do it and that someone is me. Top tip – bring a travel pillow to rest your neck and learn to ignore the teasing.
5) A related one – I never thought I'd be remotely interested in Birding. However, here I am, spending my days out in the field roaming the skies and in my free time identifying different birds from East Africa with a Helm Field Guide and getting disproportionately excited about a successful identification! Who knew a Dimorphic Egret or a Yellow-fronted Canary was so exciting? Watch out UK… I'll be roaming the countryside next spring with my binoculars…
6) I can go 3 days without a shower. In Kenya, in 30 degree heat. And in those three days I have been on land, through forest, through sea, on sand, in plenty of dirt, and had a Baboon pee on me. And it's ok, really. You take the twigs out of your hair (if you remember) and that shower at the end makes it all worthwhile…
7) It is possible to find your missing underwear in a box of sweet potatoes. Seriously.
8) Should it be Hallowe'en, and should you be carving a dolphin into your pumpkin and should you carve it a little too wide- there is a way to rectify this. Pumpkin surgery can be accomplished by sliding cut pieces of pumpkin skin into the flesh to give the illusion that there was no error in the first place. Bad lighting definitely helps with this subterfuge.
And finally….
9) I never thought I would be corrected in a lesson on the correct process of childbirth by a 14 year old boy!