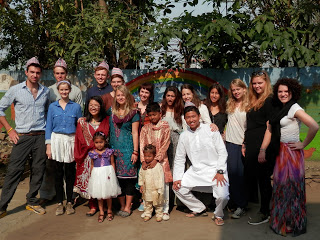 GVI Volunteers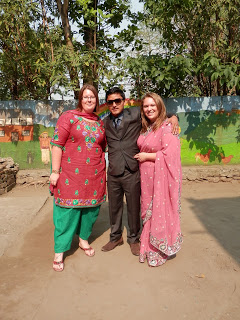 GVI Staff
The day of the wedding itself was alike all weddings. Primping and preening we all had to look our best.
And like all typical Nepali occasions running late. I was later told there were 800 people or so at the wedding. The hall definitely wasn't big enough but if you pack people outside, hanging onto windows, and a microphone everyone can participate. 

There was a live band to start us off singing songs – in Nepali – that I assume told of the joy of the day. All I know is that they were beautiful and catchy.
Ceremonies in English can be confusing and in Nepali even more so but weddings are weddings all over the world. Allan and Karuna said their vows to each other & exchanged rings. There was then a very confusing moment when lots of older people swamped the stage. I assume it was them all giving their blessings.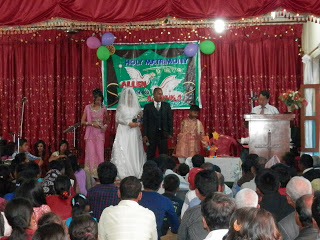 The bridal stage
There was then a wedding procession where the bride and groom literally walked around the building so everyone could shout their congratulations and we could bathe them in confetti! They then stood in the hall as people came up to say hi individually or in groups to give their personal congratulations.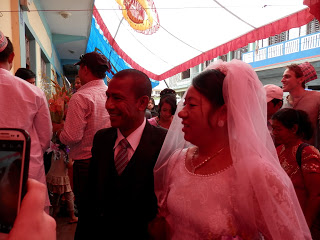 Allen and Karuna

Oh and the food… Whatever the event the food here is always amazing. But this… rice, naan, veg curry, mutton curry, chicken, salad… And dessert! Yum! And even as you are getting the food the cooks pile in more because feeding 800 people is no mean feat. And even after most of them have been served, the bride and groom were still standing and smiling and talking to the never ending stream of well wishers.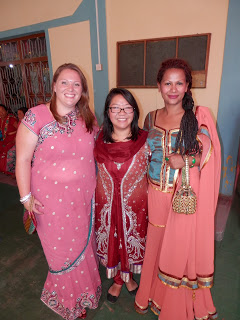 Project Manager Ruth, Volunteer May,
and Children's Paradise founder Buntty