The Painted Wolves of Hlambanyathi....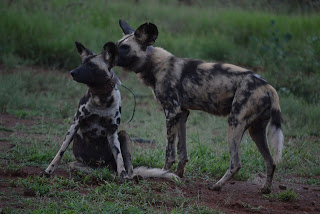 Amazing times with the Wild dogs (Lycaon pictus) have made us all fall madly in love with these "Painted Wolves". Excitement and tension is always in the air to see what they are up to next, weather it is to chase warthogs or being chased by warthogs, they sure are incredible animals.
Lately the dogs have been showing mating behaviour and we hope to see puppies soon as this will help to bring the numbers of the pack up again.
Stealth, endurance and beauty are the main factors that these dogs bring to the table everyday, well that is the days they don't bring impala……..
Ester van der Merwe
Base Manager
Hlambanyahti Game Reserve
Subscribe to our Blog
GVI on Instagram
Sorry:

- Instagram feed not found.
GVI on Facebook