The illusive Tsotsi Spotted by GVI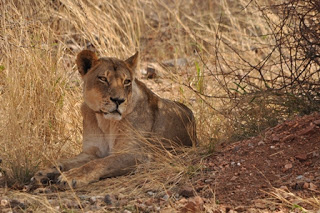 A female lion (Panthera leo) called Tsotsi has been roaming the reserve for the last couple of years. Old Eland (Tragelaphus oryx) kills and single female lion tracks used to be the only sign of her.
Recently with all the new mining activity on the reserve, mine workers have had more regular sightings of her. We went to investigate and were lucky enough to have a 30 min sighting of the illusive cat. We have a suspicion that she might be lactating and might be hiding cubs somewhere on the southern side of the reserve.
Ester van der Merwe
Base Manager
GVI Venetia
Subscribe to our Blog
GVI on Instagram
Sorry:

- Instagram feed not found.
GVI on Facebook