The end of a phase... bright colours and fun!!!
We have reached the end of phase. It is unbelievable that three months have passed so quickly, it has been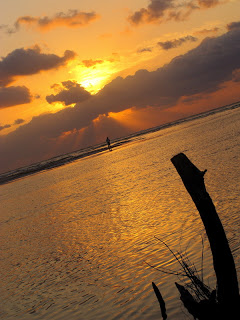 an amazing experience in which we have all learnt a lot about the coral reef ecosystem and biology and in doing so we have all improved our diving skills immensely and made friends that will last an age.
A huge thank you goes to all the staff and scholars, all of whom have passed on a lot of knowledge whilst at the same time making the last few months so so SO much fun.
For the last two weeks we have been collecting the key data that GVI shares with our partners. We're monitoring adult and juvenile fish numbers and sizes, focusing on species that are key indicators of reef health. We are also monitoring the number of "little things" on the reef at key points on a thirty metre transect. Point Intercept, the technical name for the monitoring of "little things", looks at everything from sponges to corals to anemones, even the algae. Lastly, we're monitoring coral communities, checking them
out for diseases, predation and signs of competition between corals.
Pez Maya has treated us to its infamous wind for two days this week, so we've taken the opportunity to have one last visit to Casa Cenote. Both groups were rewarded with cloudless skies and crystal clear water. You could never get tyred of diving and snorkeling at Casa Cenote, where we saw plenty of Tarpon, a Moray eel and discovered some exciting swim throughs.
The wall mural is coming along. However, it will not be finished by tomorrow so all the new volunteers feel
free to improve it, and add to it.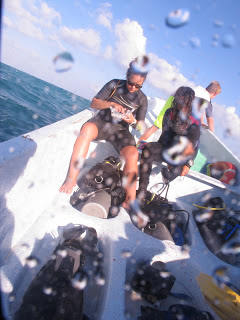 Congratulations to all the Interns who are leaving on Friday to go to their various dive shops and learn to be fantastic divemasters. Congratulations also to all the volunteers, leaving and staying, for bringing so much to base, doing amazing things and generally just being incredible. We are all going to miss Pez Maya a lot, hope
the wind calms down for next phase.