Teaching English, doing more harm then good?
By Luke Tavener
3 years ago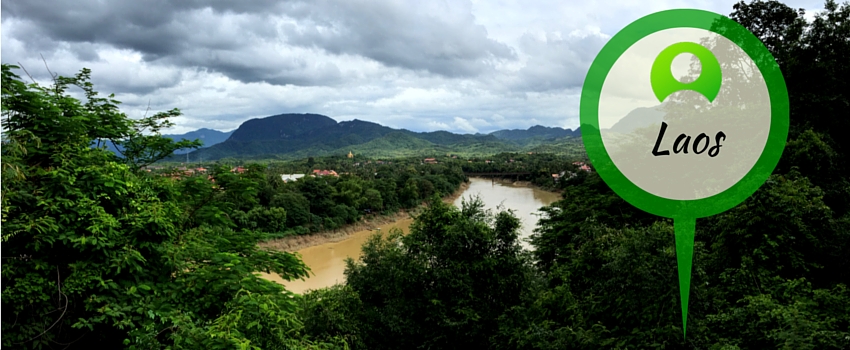 This week I had the unique opportunity to have an open and frank conversation about life, English and education, with three Novices from the Intermediate English class that I mentor. These Novice's have been studying with GVI for a number of years and each has their own interesting story to tell. These students are full of determination and drive and it has been incredible to watch them progress. One of them is leaving the temple at the end of this month and I am fascinated to watch his transition into the real world.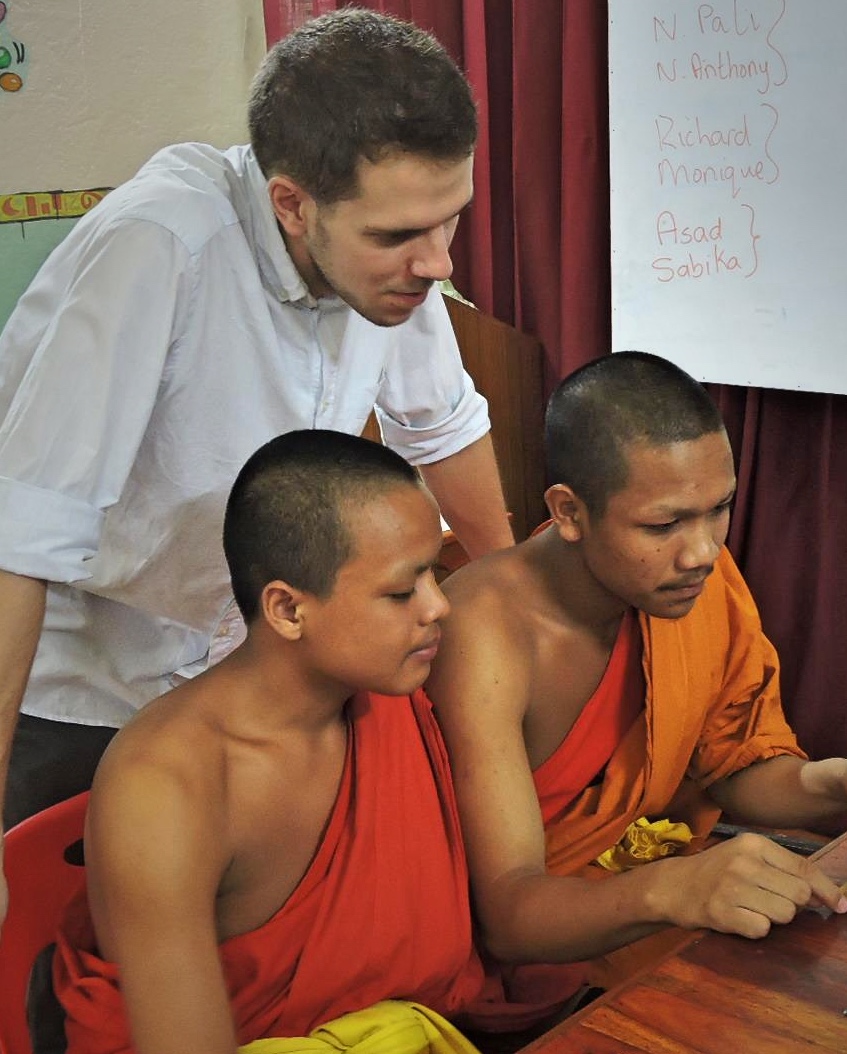 We had asked these Novices to deliver a culture talk to the entire group of current GVI volunteers at the end of the week all about life as a Novice. For the majority of them this would be their first time standing in front of a crowd of people and speaking for a prolonged period of time, on top of that, it all had to be delivered in English. As expected, all of them were very nervous and apprehensive. In an attempt to put them at ease I began to give them advice and started telling them about my educational upbringing. I was a very quiet and apathetic student, something which, as I have gotten older, I have grown to regret.
This then forced me to contemplate why I am really here in Laos working for a volunteer organisation whose projects' focus on teaching English, telling the students how important it is to work hard when I, myself, did not heed my own advice. I then began thinking about the argument as to whether teaching English does more harm than good. On one side, people argue it unwillingly imposes western rules and customs on another's culture, thus degrading their way of life. Whereas, others, included myself, believe that it increases the interconnectedness of the world and allows us to learn so much more from each other. Regardless, for me, I am not here in Laos to simply teach English… rather I am here to help. Help, not just individuals. But, to help everyone that I am capable of helping.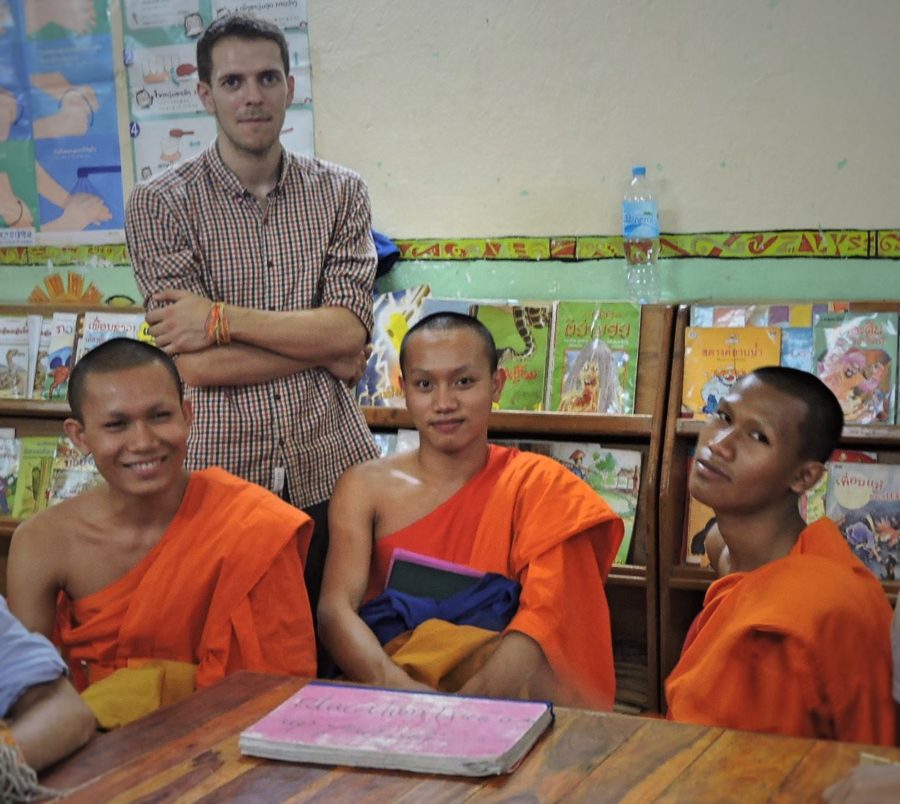 Teaching English isn't simply a matter of imposing ones own cultural norms onto another's, rather it is about giving others a greater level of opportunities that were initially shut off to them. Recently a student, an ex-Novice, returned to Laos from University in Canada for the summer holidays and is planning on traveling round Europe before he returns to Canada for his next year. An opportunity like this is something many people dream of, but very few manage to achieve. All of this would not have been possible if he did not learn English. This is just one example of how learning English completely changed someones life and I hope to write a full blog about him soon.
For me however, when it comes to teaching, English isn't even my priority. During the initial training I deliver fortnightly to new volunteers, 'An Introduction to TEFL', I proclaim that "you have a great opportunity to give your students a unique learning experience." This is something I wholeheartedly standby. We encourage the students to give us the answers, we deviate from the classic 'teacher knows all' mentality and we make our classes fun and interactive.  It is my duty as a staff member to ensure that our students receive nothing but the best, as, put simply, that is what they deserve, the best.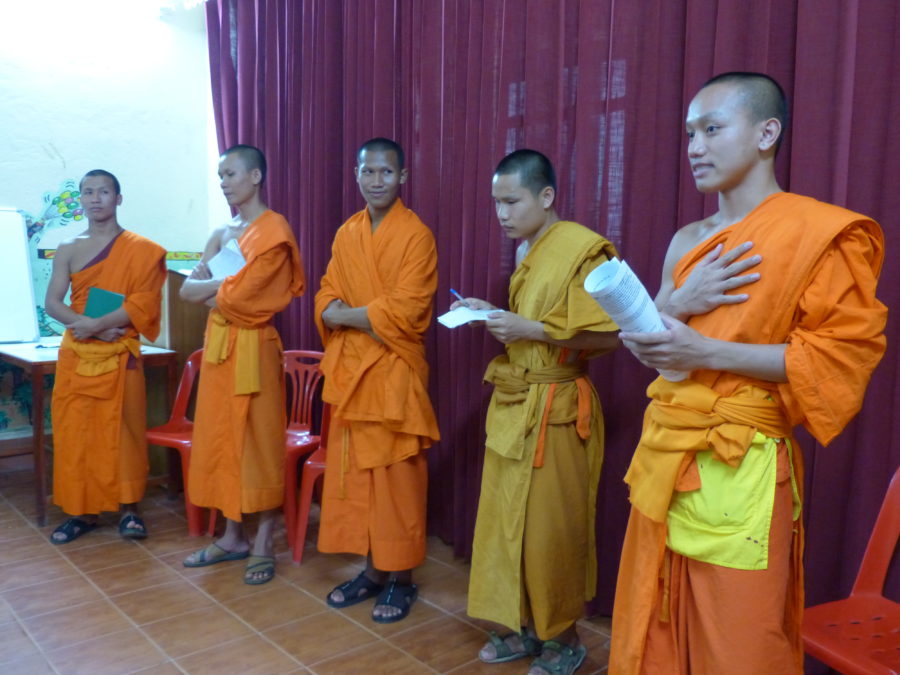 As I was explaining this to the Novices while expressing how inspirational their dedication to learning is, one of the Novices motioned to me to look at the class that was happening at that time. The class was full of 13 young English-beginner Novices, all enthusiastically engaging in the activity, telling the answers to their teammates in English. Novice Pali then said to me, "look over there. They don't come here because they have to, they come because they want to. They enjoy your lessons, they enjoy seeing a different way of learning, they have fun."
This is exactly what I am striving for. I want to instil a passion for learning for the sake of learning, rather than learning to pass an exam. I hope to inspire all of my students to enjoy the journey of learning and encourage them to make the most of all the opportunities open to them. That's what they deserve.
Finally, for those wondering, the Novices did a fantastic job on their presentation.
Written by Field Support Staff Member Luke Tavener
If you want to read more blogs from Luke Tavener click here to read his personal blog.