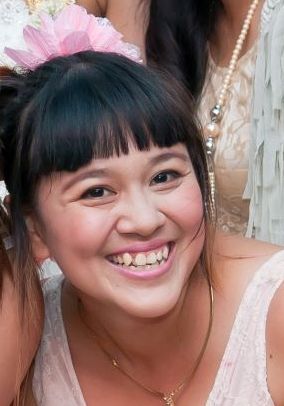 GVI Ao Luk aims to provide regular Teacher Training workshops, funded by donations to the GVI Charitable Trust and providing local teachers with new tools and techniques, in an effort to improve the standard of English language teaching in local schools by. Here, our Teaching Children Co-ordinator, Apple, talks about the most recent workshop.
On 24th November 2011, me, TEFL trainer Rachael and 8 volunteers (5 Teaching Children and 3 TEFLers) arrived the Rai Preda homestay and prepared for the start of our 'Teaching the Teacher' camp.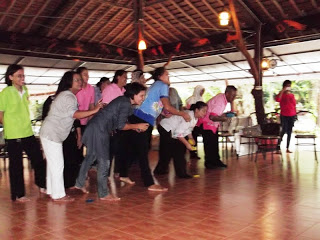 Teachers playing a game

24 local teachers from 18 different schools around Ao-Luk district came to join our camp. We started with finding out the things that they hoped to get from the camp; most of them wanted to learnt more about games, songs, activities and techniques that they can use for their class, followed by information about GVI Thailand and our Teaching Children Project in Ao-Luk.
Body parts demo lesson
In the afternoon we put them in 4 groups and gave them training ('inputs')about drilling, lesson planning, games and activities and resources by working through 4 topics (body parts, everyday objects, classroom objects, clothing). After all inputs we let them make their own lesson plan for demo lesson.
On 25th November, Lead TEFL trainer Steve and another 5 TEFLers came to join us for the demo lesson, started by one of our TEFLers, Phil, giving the demo lesson for the teachers, then the teachers did their demo lesson.
After each teacher had given their demo lessons they received feedback from the English speakers and gave their own feedback on the weekend in itself.
Teachers and volunteers all enjoyed themselves hugely, and we're looking forward to giving more English Teaching workshops in the future. To make a donation to contribute to the long-term sustainability of our work in Ao Luk, please visit the GVI Charitable Trust website.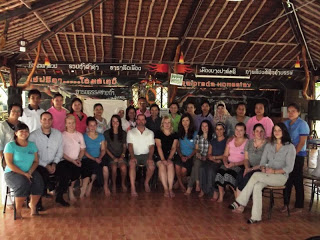 Subscribe to our Blog
GVI on Instagram
Sorry:

- Instagram feed not found.
GVI on Facebook