Staff Voice - My Friend Andy
Written by Nick Herrick – GVI Manuel Antonio Programs Manager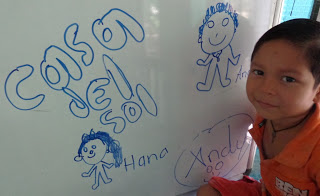 It's amazing what odd things you find yourself doing in a drop in community center for kids. Although each day has a theoretical structure the likelihood is that each day in El Casa Del Sol will be quite different from the last. Some of the consistency for us comes in the children themselves. We have built up a group of regulars who will most likely be in the casa at some point during the day for a game of uno, help with homework or just a chance to kick a football around.
One of these children is Andy. Andy is 4 years old and the grandson of a lady who cooks lunch for us every day. He sometimes arrives at the casa with his younger cousin but more often we get a message from his mum saying that he is coming along on his little bike and could we let her know that he got there safely. Andy loves his bike and I have spent many happy times racing him making loud and unnecessary motorbike noises and trying to avoid him swerving into me as I run alongside and slightly behind him.
Andy is equally happy playing games inside, though he doesn't always have the same objective as others. During a game of "Guess Who" he routinely picks up his board and turns it around to show the opponent who he is with a look of puzzlement on his face that they would even think to ask whether "William" is a girl or has brown hair. Last week I spent a few minutes making the tower for Jenga while Andy knocked it down before we both decided it would be far more fun to try and pile blocks on each others' heads. Perhaps him dropping handfuls of bricks on my head whilst giggling was less constructive but certainly no less enjoyable.
It is children like Andy that make our time here so worthwhile. Seeing them enjoy the opportunity to spend time with people who are able to focus on them and show them new games and activities is wonderful, and the knowledge that we are providing a safe place for them to play and learn makes even the hectic days worth everything.