Staff Voice: Every cloud has a silver lining
By Heather Gilbert
4 years ago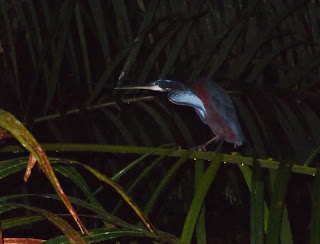 Agami herons are cool. Like, really cool. They have a beak around three times the length of their head, and the plumage on their necks is glorious silver. They live throughout Central and parts of South America and can usually be found on the edges of swampy streams and lakes within tropical forest. Fortunately for us, we live in Central America within a tropical forest with many canals and streams (and swamps in rainy season!). So seeing an Agami heron should be fairly easy right? Wrong. For starters, the Agami heron is a nocturnal forager and we rarely get the chance to be on the canals after nightfall. Then there's the issue of their scarcity. So few Agami herons are seen each year the IUCN has categorised them as Vulnerable to extinction.  They are threatened primarily by accelerating deforestation in certain areas of their range, such as the Amazon basin. Due to the very rare nature of this bird, our partners MINAE (the Costa Rican Ministry of Environment) have expressed an interest in learning more about this little-studied species and its population in Tortuguero National Park.
With that in mind, a few months ago we began the now infamous "Agami Hunt 2013".  With a little help from our excellent boat driver Jorge, we have been surveying various parts of a nearby canal where the last known Agami sighting occurred. Sadly, while Yellow-crowned Night Herons, Grey-necked Woodrails and Bare-throated Tiger Herons were plentiful, the Agami remained hidden to us. Being the canal bird project leader, my desire to see an Agami heron was great, and only grew with each passing survey.
Then two weeks ago, it finally happened. We almost had to cancel the survey due to heavy rain but half an hour before the survey the rain stopped, and the stars came out. It was a particularly quiet night on the canals however, the rain seemingly sending all the birds into hiding. We had been out for just over an hour and were all getting restless and, let's be honest, slightly tyred. Then out of the blue, intern Dionthé said the classic "bird!", and then "Agami!". It took a few moments to grasp what she had said, and a couple more to confirm that the silvery blur in front of us was indeed an Agami heron. It's safe to say I was more than a little excited by this sighting. I grappled for my camera and managed to get a few shots and then settled down with my binoculars to simply watch and admire this beautiful bird in its natural habitat.