Smile, you're on candid camera!
By Rosie Miles, Karongwe Base Manager
4 years ago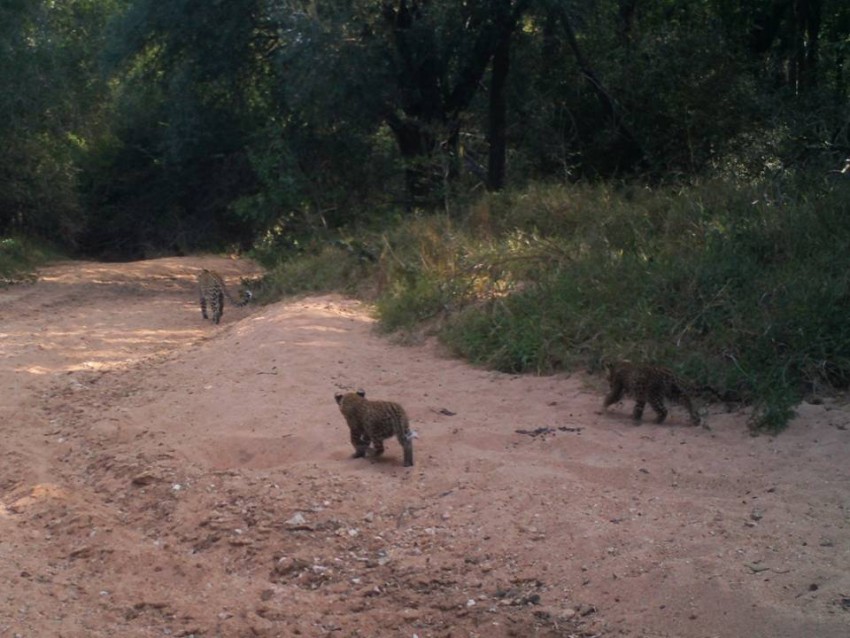 We began a camera trap survey in the northern part of the reserve nearly one month ago and so far we have had great results! Our initial goal for these cameras was to be able to identify some of the female leopards with cubs that had been seen in the areas, we got that and more.
The use of an infrared camera trap is a nonintrusive glimpse into the wild world you wouldn't see otherwise. We placed 4 cameras in various locations that the female leopards had been seen recently. Within the first week we had amazing success! We captured one female leopard with 3 cubs, whom we later identified as Tilo. But just as exciting as the leopard sightings, we have been able to look in on the natural activity of the other animals. Through these photos you could spend the day watching baboons in the Spruit playing, fighting, or grooming. Or watch a Duiker make a circuit around its territory. You may even get a glimpse of a giraffe taking a drink of water.
Every time we go to collect the memory cards, we are always excited to see what we may see.
Some of our incredible finds from this month has been verifying that our male lion, Subby, still does a tour of his territory up north every few nights and finally capturing a photo of a Brown Hyena that we never had proof of before.
When we set up our camera traps we had some idea of what we would get and what we hoped to get. But after just one month of collecting photos we began to understand just how much more there was to see.
Setting camera traps, while nonintrusive, are not without risks when setting up in a wild animal's territory. We have nearly lost some traps to curious Hyenas and hungry Elephants!