'I and some of my other new volunteers took advantage of a school holiday this week (Big Buddha Day) to have a short holiday ourselves! A group of 7 of us did a weekend kayaking side trip trip on Wednesday morning, giving us a free weekend for potential scuba diving in addition to a short break from teaching and lesson planning.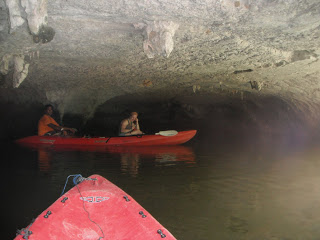 Breathtaking views of limestone karsts, some ancient cave drawings, and general immersion into a world that looks like it came straight from Jurassic Park– not a bad way to spend a Wednesday morning! After a short ride from base we met our friendly Thai guide who loaded us up in pairs and sent us on our way. Uneven numbering meant one lucky individual got to paddle (or not really paddle…) along with him as his "princess" — I claimed the honour for myself.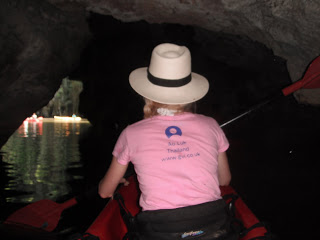 Despite some early hesitation and jokes about crocodiles we all quickly learnt our way around a kayak. We paddled and steered our way through mangrove forests, with the soaring cliff faces all around. A couple of times we even made our way into them through small tunnels and into caves hanging with stalactites and mites! The tour finished off with a full exploration of a cave featuring paintings from over four thousand years ago. I don't think even Sharpees are that permanent.
Just the first adventure from what looks like what might be a thousand more.
Over and Out from Thailand : )
-Mallory'
Subscribe to our Blog
GVI on Instagram
Sorry:

- Instagram feed not found.
GVI on Facebook