By Claire Mawdsley, volunteer
4 years ago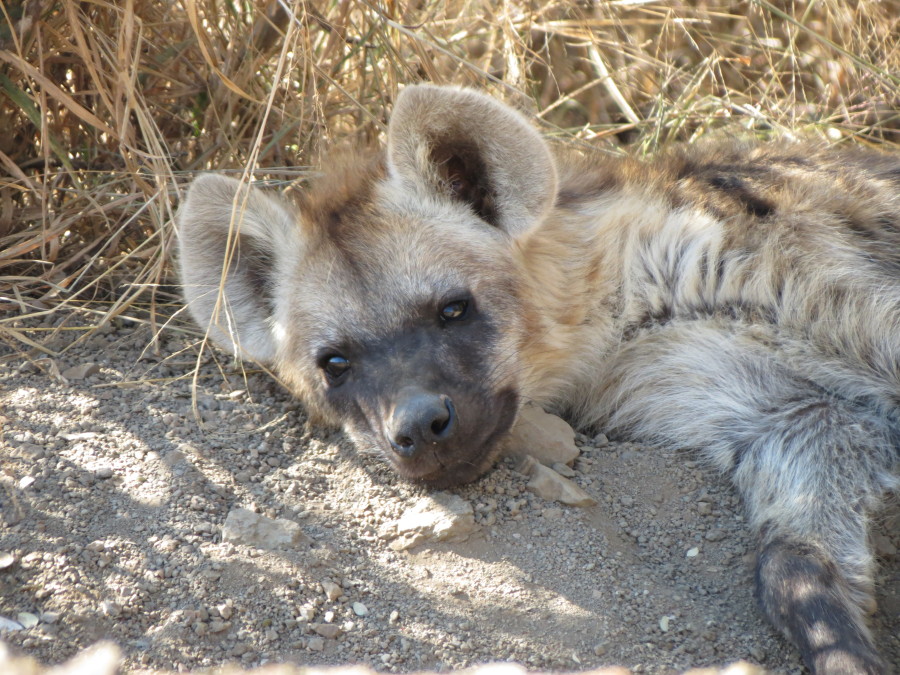 Early starts are pretty much the norm at Karongwe but last Sunday was especially early – 4am, which was made all the more tiring due to the GVI social evening the night before! So it was a very quiet group of volunteers travelling to Kruger on our day off. It's amazing the difference of an hours nap in the minibus, some sugary snacks and the prospect of some excellent game viewing made as we arrived at Kruger.
We were barely through the gate before Emma saw a male lion making his way to the road, creating a bit of a jam on the road as lions are not that easy to spot in an area of 2 million hectares. With 11 volunteers plus Veronica and Jess on board we were bound to spot some great wildlife and the viewings kept coming all morning with most of the Big Five – elephant, buffalo and lion spotted fairly early on. But size is not always important and we saw some really interesting smaller game too – Ground Hornbill, baby Hippos, Zebra, Secretary Bird, Crocs as well as a very photogenic squirrel who posed for photos for some time right next to the minibus.
After a lunch overlooking one of the rivers of this trans-national park we headed to a fascinating museum showing the great elephant tuskers of the park. Seeing the massive tusks up close put into perspective the size of these amazing animals although it was hard to see the information on poaching and hunting through the years. A photo showing a massive herd numbering hundreds of elephants showed what Kruger had sadly lost.
After the heat of the day died down a little we still had some great viewings – plenty of Lilac Crested Rollers posing by the side of the road, warthogs running with their tails indignantly in the air, and a hyena just relaxing right by the main road not bothered about the cars that stopped (although not as many as if it had been a lion). We even saw vultures on a carcass fighting amongst themselves for the best spot. Although one of the funniest spots was the male ostriches coming for a drink who managed to synchronise bobbing their heads up and down to drink perfectly to avoid the perfect photo opp.
As the sun started to set we headed for the gate and back to 'normal' life. It was strange to see pedestrians, shops and a restaurant so close to where we had just been trying to spot a leopard to complete our big five. We missed out on the leopard and the wild dog packs that roam Kruger but at least we knew where one highly mobile leopard could be found – back at base. It was definitely a great day although some might think it strange that we went to find wildlife as that is what we do every day – it was definitely worth the very early start to visit Kruger.