Ships Ahoy! Pirate Day at Ikhayalethemba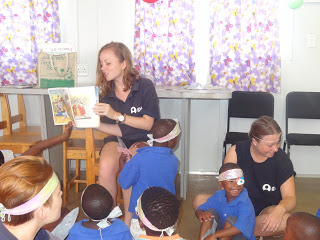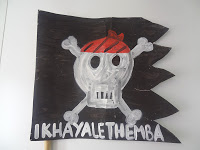 Each Friday at Ikhayalethemba we host a "Fun Friday" activity for the children.

 

This includes all sorts of activities ranging from baking to kite making to most recently, a pirate themed day.

 

The look on the children's faces was priceless as they walked into the classroom to see balloons, our own Ikhayalethemba jolly roger, and even a parrot.

 

To add to the children's excitement, each swashbuckling buccaneer was given an eye patch, a bandana, and a cardboard cut out of a hook or sword, even a mini sword for our smallest child.
We followed all this up with our usual story time, but with a pirate-y twist.

 

We read a couple of the children's favourite stories about pirates, and got all the kids to join in reciting them back.

 

When the stories were done we played a game of pass the treasure, a pirate version of pass the parcel.

 

All the kids were anxious to see what the treasure would be and who would get it.

 

For the rest of the day we played games with our balloon decorations and built a fort, or perhaps it was a pirate ship, out of blankets and chairs.
It was an incredibly fun Friday for everyone involved.
Andy Eskeland
Ikhayalethmba coordinator