Shark Week on Curieuse – Lively Lemons and Wonderful White-tips
By Maya Kerstetter
2 years ago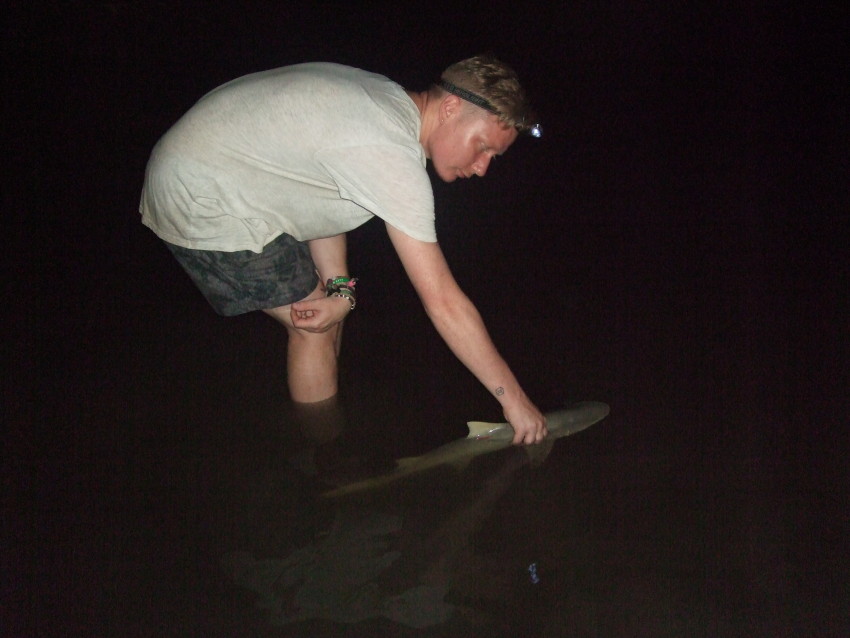 The Sickle-fin Lemon Shark pups came out to say hi to our new volunteers last Tuesday morning. We started our trek at 5 o'clock in the morning to get to the 'Turtle Pond', a sheltered area of water in front of the Curieuse mangroves, formed after a wall was built in 1910 in an attempt to breed turtles in Baie Laraie. Shark-man Alan had the sein net already set up in shark highway when we got there. As soon as the team arrived Alan had already seen three sharks in the net so the volunteers were thrown into the mix right away. The scouts were out with the dip nets trying to catch sight of the sharks while back on shore, volunteers Reece and Michelle organised the work-up station. They filled the box with water to keep the sharks in, as well as set out all the equipment needed. The first shark was caught by Science Officer James, who was then trained up in shark work-up, and released by our new volunteer Reece. The second and third sharks were caught by our construction volunteer Callum and our veteran volunteer Kristin. There was a fourth shark that Alan didn't see at first, though that had nothing to do with the size of the girl, as she was a whopping 96cm long! James and Callum worked together and managed to get her into James' dip net so that Alan could get control of her. They had to do the measurements in the water since she was too big and feisty to bring up onto shore! After being measured, weighed and tagged, she was released by Alan and swam off like nothing had happened. Four is now the new record for the year! The team returned to camp with awesome news to tell the rest of the volunteers, and hopes of catching more lemon sharks later in the month.
The sharks didn't stop at morning sharking. A lucky group of volunteers went to visit our new favourite snorkelling sight, Booby Island. The water was calm and clear, perfect for snorkelling. Early into the snorkel, Cheryl spotted a White-Tip Reef shark gliding along the sea floor. Soon after she spotted a second white-tip swimming out into deeper water. These shy, elegant sharks don't stay around too long so the visual is quick but special none-the-less. Not all the volunteers got to see the first sharks but luckily the sightings didn't stop there. Later into the snorkel one white-tip swam past the group and as the group was watching it, two Spotted Eagle Rays swam into the picture and glided around. As soon as the first shark swam out of view, they turned around were met by a second shark coming to check them out. Two white-tips and two eagle rays in one viewing made for a great end to the snorkel!
GVI on Instagram
Sorry:

- Instagram feed not found.