September: An affectionate 'adieu' to Ao Luk and 'bonjour' to Ban Nam Khem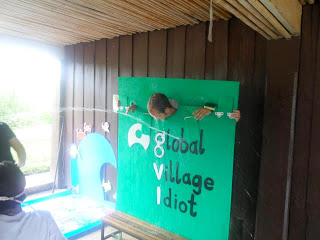 Global Village Leediot: Intern lee takes to the stock
We've had a very busy year so far, but nothing could have prepared us for September! After more than five years in Ao Luk, Krabi, we are moving on to pastures new. We didn't want to leave our base in Ao Luk on a sad note, so we decided to make sure that our last few weeks were fun and that we made the most of our time with the wonderful people of Ao Luk.
Students enjoying the stocks
We started the month with a fair at the Ao Luk Non-Formal Education (NFE) Centre, where we have been running free English classes for adults since July 2007. There was a lot of fun to be had and lots of mess to be made; Teaching Children (TC) volunteers Sophie & Laura got to work painting faces while the rest of us ran the various games & activities, including a 3 legged race, hoopla, pass the parcel, fishing for prizes, a can shack and a crafts table making penguin piggy banks out of plastic bottles! By far everyone's favourite was the Global Village Idiot stocks, where students got the chance to bombard their teachers with wet sponges, water pistols and, eventually, entyre buckets of water. Students – adults & kids, volunteers and staff all had a whale of a time and walked away drenched but happy.
The following week we wound up our project work in Ao Luk; Laura F, Sophie & Shane taught the last day of the TC program in Ao Luk and Karissa, Lee & James brought the NFE evening classes to a close. TEFL Trainer Ian & staff member Laura B also finished up their training with some of our higher level students, who have been learning about the teaching techniques used in our classes so that they can help teach others in the Ao Luk area. The higher level students from our NFE classes took all of us out for a slap-up meal and gave each of us a present – though we had to 'earn' them by showing off our Thai language skills or talking about our favourite thing about Ao Luk!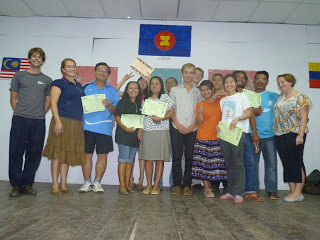 Students receiving their certificates
As is tradition at the end of each term, we held a party at our base for all the students, community and volunteers, the theme this time being 'GVI rak Ao Luk' – 'GVI loves Ao Luk'. For more on the party see Apple's blog.
The morning-after-the-night-before dawned and all too soon it was time to say goodbye to Shane, Sophie, Laura F and Karissa. We were lucky to have such a lovely bunch of volunteers for our last few weeks in Ao Luk and would like to say a huge 'thank you' to all of them for their hard work. Massive 'thanks!' also to 6 month interns Anna-Marie and Kirsty, who finished their 3 month teaching placement in Ban Nam Khem this month; we hope you enjoyed your time with the kids from Baan Tharn Namchai! Also a big 'gracias' to Lee & James, also 6 month interns, who are staying in Ao Luk for their placement and continue providing English classes to the community. The team that quietly (sometimes not-so-quietly) keeps things running smoothly, Apple, Ian & Laura B, have done a fantastic job of making our final few months in Ao Luk memorable and successful ones – well done, guys, you really are a dream team
J
.
Finally, and most importantly, the biggest 'thank you' goes out to the community of Ao Luk: to our dedicated students at the NFE center who spoil us endlessly; to Noi & Supachai who drive us around and always make us smile; to Pikoy who has spoiled us with delicious meals and a big grin to Vee, Wit & Pui for taking on the epic task of teaching us Thai. To all of the many, many people here – too many to name –who, with all their warmth, kindness, generosity and wicked sense of humour, have made sure that everyone who has come to GVI Ao Luk has had an incredible experience. Thank you.
Laura B packed her bags and made the journey from Krabi to Luang Prabang, Laos, where she will be working with Tricia, Greg & Molly for a few months on their projects – make sure you send her back to us guys! (but you can keep Gretchen…
J
).  When she returns, Laura will be co-ordinating the Teaching Children project; Laura has been a volunteer on both TC and TEFL programs and her hard work, positive attitude and random sense of humour earned her a place as a Scholar before she became a full-time member of the team in June, so she's got a whole lot of wisdom and experience to share. Congratulations, Laura, you earned it and we can't wait to have you back!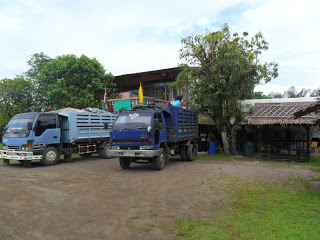 Our impressive 'Trucks 'O Stuff' ready to leave Ao Luk
So, Ian, Apple & I packed our bags (in the shape of 2 rather ample trucks and with the aid of some of the aforementioned lovely people of Ao Luk) and set off to our new place in Phang Nga province. Our home for the next 3 months, as we set up our projects, meet our new partners and prepare for the arrival of our first volunteers in January, will be the small village of Ban Nam Khem on the Andaman coast; we'll tell you all about it next time! As a teaser, here's the sunset from the beach near our house…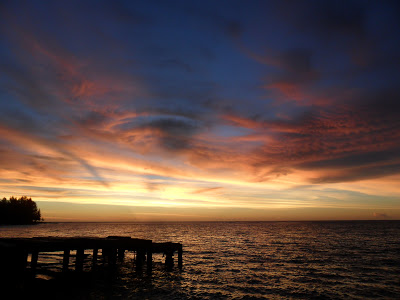 Jax Keenan, Project Manager
Subscribe to our Blog
GVI on Instagram
Sorry:

- Instagram feed not found.
GVI on Facebook