By Olivia Madsen
3 years ago

Before coming to Seychelles, I had only seen places like this on brochures for expensive tourist holidays and had never really believed that those places actually exists. As soon as my plane landed, I knew that I couldn't have been more wrong. This place is stunning!
My friend Amanda and I arrived on Mahe, the biggest island in the Seychelles , a few days before the project started, to give us some time to settle in. We were both surprised by both the beauty of the place, and the heat. We showered about five times a day and weren't able to go outside in the middle of the day when the sun was at its hottest. You can only imagine our surprise when we found out that once we arrived on Curieuse, we would be working hard while out on surveys in the mid-day hours, and that our showers would be reduced to one every other day, in order to conserve water. Why didn't we just stay at our nice apartment?!
Even though we had our doubts about the island lifestyle, we quickly found out that it was totally worth it. No fancy hotel with A/C could give us these many amazing experiences in such a short period of time. Within our first week, we had already been out snorkeling with a Hawksbill turtle, petted an Aldabra giant tortoise and made some great new friends – and that was just the beginning. Soon we'd also get to snorkel with white-tip reef sharks, catch baby lemon sharks and help baby Hawksbill turtles make their way from their nest to the sea. I have only just begun my third week on the Island Conservation Expedition, and I can't wait to see what my last week on the island will bring.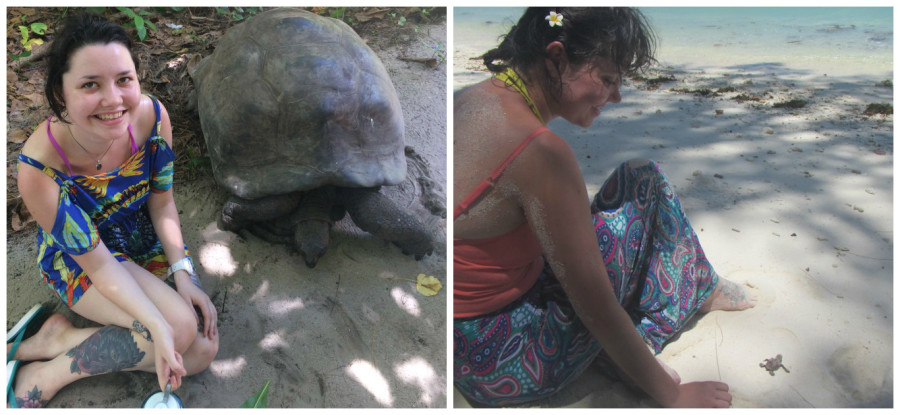 When you have had to wake up at 4.30am to walk to the mangroves to catch baby lemon sharks, after having been kept awake by mosquitoes during the night, it is easy to forget how stunningly beautiful this place is. But as soon as you see the sunrise over the Turtle Pond, and catch your first lemon shark in the net, you realize just how amazingly beautiful your life is and what the island life is all about. Even when you have to go to bed at 8pm because you are exhausted from a whole day of surveys, you get lulled to sleep by the waves hitting the beach and woken up by the same sound again the next morning.
And at the weekend, when you are tired of oatmeal and cooked vegetables with rice and need an all-you can eat breakfast buffet with the most amazing pancakes and fried eggs, you just go to Praslin and ask for 'Paradise'. That's what I am going to do this Saturday.
See you in Paradise!