Saving the ocean one fish at a time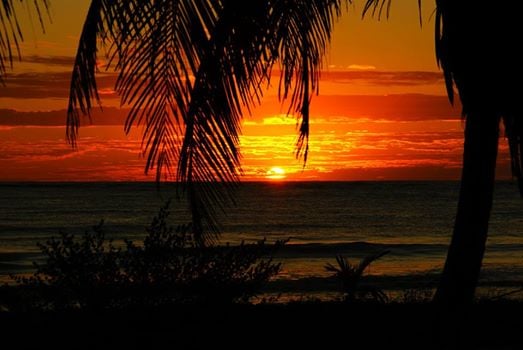 As fishing conservationists here at Pez Maya, we are quite worried about illegal fishing over the world, so it was a huge disappointment and concern to find an illegal fishing net 50m long right on our front beach this week.
Driving the boat out to one of our many beautiful diving sites this week we spotted a huge net stretching across the mangrove mouth, the point where the freshwater lagoons join the sea. It was obvious that this was carefully placed and as fishing with nets is outlawed within the reserve it was obvious that there was something 'fishy' going on!
Staff member Brad donned his snorkel gear and went down to investigate. After snorkeling the length of the net he confirmed our fears that there were quite a few fish stuck in the net. The net was made of thousands of small squares with floats on top and weights on the bottom, designed to catch anything and everything that swam into it. We were slightly comforted by the fact that no turtles had been trapped in the net because turtle egg laying season has begun in the reserve, so many turtles are traveling to the beach each night.
We threw the anchor out and after Brad cut the ropes tying it down we began to pull the net into the boat, carefully cutting out any fish that were stuck in the net. By now we had a small crew in the water to take photos and videos. We were fortunate enough to save a lane snapper but sadly we had to cut out 5 dead fish which included a massive barracuda and tarpin.
On a positive note Will, Sam, Annick and Dylan have almost finished their rescue course after 3 weeks of tough lessons. Rhu and Brad have certainly made sure their learning was thorough and fun (for them at least!).
Turtle laying season has begun and the turtle crew was excited to see a couple of huge loggerhead turtles finish laying early on in the week. The turtle team does nightly patrols (about 9pm to 5am) of San Juan, taking along a few volunteers each night to help out and hopefully see one of these amazing creatures close up. All the reports have been positive, even if the hours are slightly different than what we are used to.
Other than that it has been paradise as usual at Pez Maya!