Last week on Karongwe, staff and volunteers were even more excited about seeing animals in the reserve than usual because it was time for our monthly Safari Spot competition! For the last week of the expedition phase everybody gets awarded points for the animals they see while on research drive, with more points being awarded for the rarer animals. Now normally this means we end up getting ridiculously excited about simply seeing impala and zebra (after all "every little helps"), but  the competition turned into something really special this month after we have been really spoilt with  some incredible rare game sightings!
It all started with Nico Kritzinger having an amazing sighting of a side-striped jackal, a larger, rarer and generally cooler version of the more common black-backed jackal. This alone would have made a good week, except the very next day he saw an aardvark while driving back to base. Admittedly it was running away from us as fast as its (very short) legs could carry it, but considering we usually only see two or three a year we're not complaining!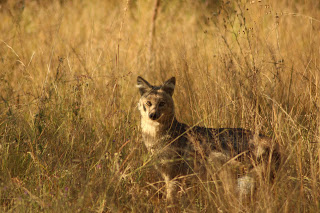 After calming down a bit we decided to get on with the day job of finding our resident lions and cheetahs. Jamie Sangster had just made a normal T-lem stop to check for Ketswiri (our female cheetah), when one of our volunteers said she could see something in the grass that looked like a head. Just as she said this "The Head" stood up… and turned out to be a brown hyena! It was surprisingly relaxed with us being so close and stuck around for a good few minutes before wandering off. Brown hyena are the rarest of the hyena species so we are lucky to have them on the reserve, however we know very little about our resident population. We think there are at least 2 individuals though so fingers crossed we have a breeding population establishing itself!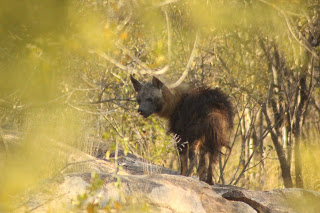 After all these sightings you would think we would have had enough, but nope! In the last two days Andreas Fox (Regional Coordinator) saw a further three side-striped jackals in one drive. However even this was topped by Rhiannon Craig (our Bushwise Intern) who had not one, but TWO sightings of honey badgers and on Ratel (the Afrikaans word for honey badger) Road can you believe it, which awarded her about a million bonus points! Guess who's going to be winning Safari Spot this month!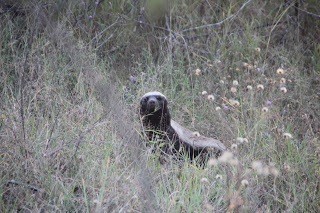 Tess Taylor, Volunteer Intern, Karongwe