Return Visit to Khao Phanom Landlslide Village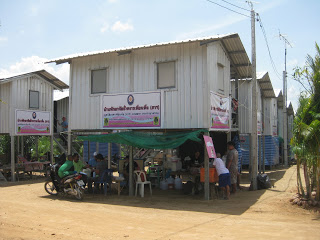 Tongpoon's Som Tam Shop Underneath her Temporary Home
On Friday, we returned to Khao Phanom, where March's landslides destroyed villages and homes in Krabi. The surrounding communities were bustling and working hard to build houses. In "Knock Down" village, the temporary home for displaced families mostly women and children roamed around as it was a Friday workday and schools are still out for the summer. We revisited Tongpoon's home where she has set up her som tam (papaya salad) shop under her corrugated steel home. The little shop sold not only papaya salad, but also larp (spicy minced meat salad), rice, soup, and drinks. We enjoyed a tasty lunch as locals stopped by for food, drinks and a chat.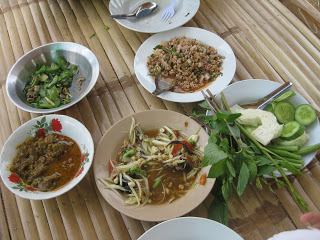 Lunch at Tongpoon's shop – Yum!
Spending some time in the community, we had a chance to chat with everyone about where the need is. As houses are currently being built, including a row of 14 small apartments, it is time for families to start staking their claim. Some families with young children are being provided with housing from the government. However, others, like Tongpoon aren't so luck and have to come up with the 30,000 baht (US$1,000) to put a down payment on permanent housing. Many of these rural families have no savings or assets to scrounge up the down payment. We hope that if GVI Thailand can raise more funds, we can help with this initiative as well. To make donations in pounds go to our Just Giving page here and for donations in dollars visit the Global Giving page here.
Every little bit counts! Thank you to all of you who have already donated!
GVI staff and volunteers will be going out to Khao Phanom at the end of the month for a work day so watch here for more updates and photos!
Subscribe to our Blog
GVI on Instagram
Sorry:

- Instagram feed not found.
GVI on Facebook