Precious Vision Care Centre is now Nyota Ing'arayo School
Precious Vision Care Centre is now Nyota Ing'arayo School

 

GVI are committed to help the schools we work with achieve sustainability , one area is to get Precious registered as a school and not a day care center this will mean that next year when there is a standard eight they will be able to sit the KCPE and
complete their primary education. This will give them the opportunity to go to high school and complete their whole education therefore increasing their employment opportunities.
The first step undertaken was GVI helped form a committee which consisted of parents, teachers and local business personnel.

 

One of the main benefits of a committee is that the all decisions are jointly discussed and no one person has sole responsibility.

 

By sharing the decision making this ensures that all aspects are taken into consideration.
GVI and the committee members then had a meeting with the local District Officer providing them with the relevant information on how to register the school.

 

The first step stated was that the name of the school would have to be changed.

 

The committee decided that the naming of the school should be a decision made amongst the student themselves.
Some of the children from Standard 4 upwards were invited along to take part in a democratic election to decide upon the new name of their school.

 

The GVI volunteers were around to help the Kenyan teachers and students come up with some ideas.

 

After a preliminary discussion the group opted for a Swahili name rather than an English one.

 

So now it was just a matter of thinking up some interesting sayings, mottos and proverbs.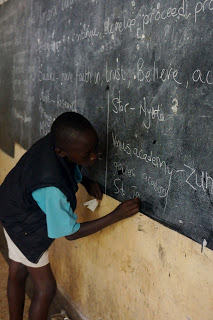 Lots of suggestions from students and teachers.
The GVI volunteers got the ball rolling by proposing Imara Daima (stand firm forever) which proved to be a very popular suggestion!

 

But other ideas were soon coming thick and fast from the students and teachers alike.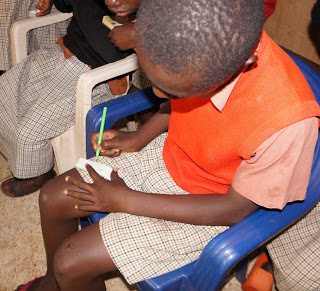 Let the voting commence……
The GVI volunteers assisted Mr Mutunga and Madam Esther in collecting the ballot papers and counting the votes……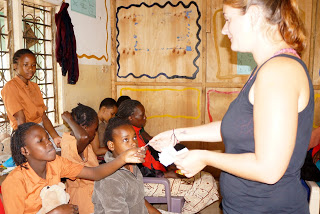 Second vote

It was a tie between Nyota Ing-arayo (a star that shines – suggested by Madam Immaculate) and Imara Daima.  After a second vote Nyota Ing'arayo was crowned the unanimous winner!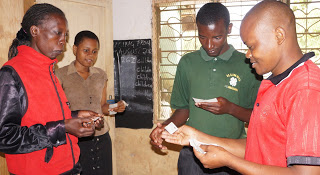 The second votes were counted . 
Everyone at Nyota Ing'arayo School is so proud of their new school name they couldn't wait to get the sign painted on the wall – so they wrote it up in chalk instead!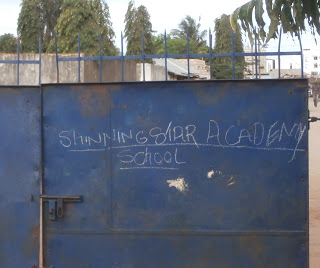 The sign has now been officially painted, however.

 

But the children aren't satisfied with this – next on their list: a badge with logo for the breast pocket of their shirts!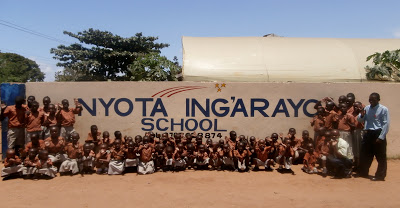 Welcome to Nyota Ing'arayo
So from now on Precious will be known as Nyota Ing'arayo (Shining Star). So watch out for the new name in future blogs……
By Michele Comber and Natasha Richardson
Subscribe to our Blog
GVI on Instagram
Sorry:

- Instagram feed not found.
GVI on Facebook