Onam - O Man what an adventure!
Someone once told me that travelling in India is hard, but nothing could have prepared me for this!
There was no school during the harvest festival week of Onam so some of us decided to take a trip to Munnar and Goa. A trip to explore, relax and party. After planning our dates and Munnar trip we decided to leave plans in Goa to a minimum leave it up to fate, our adventure began…
Munnar was stunning, peaceful and full of surprises. After stopping off to see elephants being washed our first point of call in Munnar was a terrific waterfall which was surround by market stalls and naughty, but very cute, monkeys!  There were many highlights in Munnar it is a place which you need to experience for yourself, but some of my top moments included… hot water, Dasht – the lovely lovely hotelier, the secret fruit and fish market where no tourists go, the tuk tuk ride around the mountains and of course riding an elephant! I could have stayed there forever but time was of the essence, we had a train to catch…..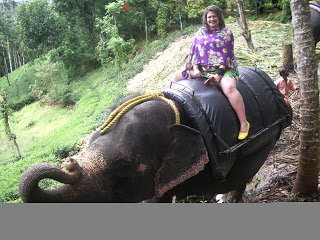 The train, Carriage S2, sleeper class. After an experience in standard class this was luxury and the excitement got us through the 14 hour journey to the party capital of India… the way back was a different story but I will get to that later.
Arrival in Goa. At around 2.30am, after being chased out of the station by a pack of wild fighting, dogs we jumped in a taxi to a place which we had booked online and had 24 hour check in and looked quite nice (Lesson number one: don't trust the internet!). We arrived in the middle of the night to a row of cows guarding the entrance and a taxi man who would not approach the 'hotel'. As the taxi drove off we were stranded and had to use the light on one of our iphones to guide us down the puddle filled bumpy driveway (Lesson Number 2: Always carry a torch with batteries which work). Walking towards the dim light in the distance we could see no human life… there was no human life. We had to make the decision to try one of the doors to a room, it opened on to a haunting room with one bed and there we spent the night, with the light on! The noises and scary thoughts which went through our head, not to mention a fellow volunteers sleep talking is a story for another blog, for now we had a party town to find!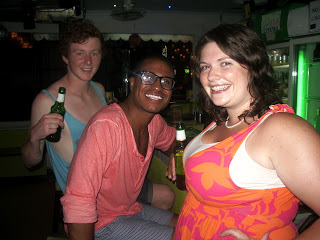 Next day… monsoon! We hopped in a taxi and headed to Baga where we soon became the main attraction. It's September, so not high season and the only tourists were from close by Indian states who were not used to aliens with a different skin colour and dress sense. However, we walked around with smiles on our faces greeting those who dared to walk past us. Eventually we found a room which had three beds in and worked for our budget, so that would be our home for 3 nights. After our long and eventful journey to this place we hoped that the nightlife lived up to its reputation – and it did! Yipee!
Buy one get one free deals everywhere, Kingfishers for around 70p, cocktail jugs for under 3 pounds, a lack of ladies but lots of friendly people and fun music – it was great, I can't even begin to imagine what it would be like during high season!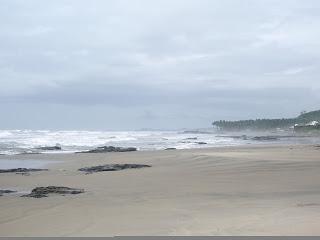 So the next day was a write off, monsoons and hangovers = in bed all day! (Lesson number 3: Always have paracetamol, water and rehydration medicines when in Baga!)We made it out for a full English breakfast though. The rest of the evenings in Goa were similar to the first, slightly quieter but still full of interesting people, conversation and quirky beach bars, not to mention the incredible selection and taste of the food. It was time to explore the state of Goa further…
Finally a sunny day to enjoy.

 

We made the most of it by jumping on a bus (the best way to experience the sights and sounds of India!) and heading to another beach town, a slightly more peaceful one. We had to change busses at Mandrem and the sights we saw here were incredible, a taste of the north I thought. There were cows waiting for busses and just general chaos, it certainly clarified the statement 'Nobody knows how India works, it just does.' Each bus had its slot and there were helpful workers everywhere telling us where to go. Once we had escaped the madness, our journey continued out to our peaceful beach, when I say peaceful, there was a lifeguard and two fishermen. It was bliss, the beach stretched for miles with deserted fishing boats and huts and misted palm trees in the distance… there are not many places in this country where you can escape but Morjim Beach is a little diamond of a place.
On our final day we visited Old Goa and although the rain was back it did not stop us from enjoying the sights. We found a very nice Tuk Tuk driver, with a Tuk Tuk which had doors, who looked after our luggage and transported us to all the sights, including some we are sure we would not have seen without his local knowledge. A day was too long to spend there though, especially in the rain, so our journey home seemed to start early.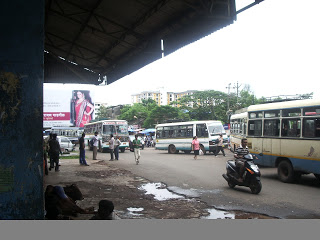 The journey home was epic. It started at around 3pm on Friday and ended at 12.30pm on Saturday, it included sleeping in train stations, being eaten by mosquitoes, ants and anything else with teeth, racing in a taxi to avoid missing trains, fighting with a family which would not let you to your reserved seats, hunting for food, fearing for your life and many other feelings of emotion and uncertainty along the way. There was only one thing to do and that was sleep. When we eventually got on the overnight train I slept like I had never slept before, I closed my eyes and refused to open them until daylight, I was relieved and thankful to the boys who travell\ed with me and kept me safe.
We arrived back to the GVI house, an unusual, one hour early and got a warm welcome from the staff and a well needed hug. It was all over and we were safe! We had made it. We had survived. It was awesome! (Lesson number 4: you will never have a life experience like this anywhere else!)
Subscribe to our Blog
GVI on Instagram
Sorry:

- Instagram feed not found.
GVI on Facebook