Oh look, we're in Ao Luk!
9th October 2011
We were pleasantly greeted on time by the GVI staff on the first day of the project (even with the chaos of vegetarian festival currently taking place) and they were even kind enough to wait for the few volunteers whose alarms did not wake them up.
I was surprised at the amount of volunteers – 13 of us total! The staff answered every question we had and after one introduction they immediately knew who we were and were able to recall information that was submitted before arrival. They expressed empathy for each volunteers' various situations (we have volunteers from almost every continent) and listened to our opinions and first impressions of the country. Once we were all ready we loaded the luggage into a song thaew, a vehicle commonly used in Thailand; it can best described as a pickup truck with an enclosed bed with two benches on either side. We loaded into the vans and made our way to Ao Luk, where the GVI base is located, about 35 minutes from Krabi Town.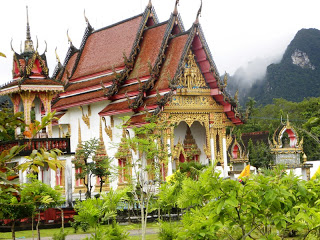 Buddhist temple, Ao Luk

Along the way to the base the staff gave us more information about Thai culture and geography. Staff member Rachael pointed out landmarks along the way, told us the term in Thai and give us a bit of history. She also told us that it had been continuously raining for the past several days in Ao Luk, which should be expected as it is still the rainy season. When we were picked up in Krabi Town the sun was shining and the skies were clear, but as soon as we further from the city it really started to come down…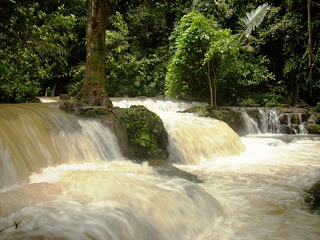 National Park

Ao Luk is a small but rapidly growing region. One of the town's future hopes is to increase farang (foreign) tourism to the area. I'd like to think of Ao Luk as a little hidden gem; it looks rough from the outside but once you become familiar with the area you can see it's true but unrecognized beauty. There are several national parks (walking distance from base) which have the most amazing foliage and forestry I have ever experienced – it really is picturesque. Another nice quality about Ao Luk is its location; it's only a short ride from Krabi, which is a major jump off point to many of Thailand's infamous and lesser known destinations, such as Phuket, Railay and Phi Phi, where the film The Beach was shot.
Although I have only been in Thailand for a week I can already anticipate the amazing experiences that will be had and the lifelong friendships to be made.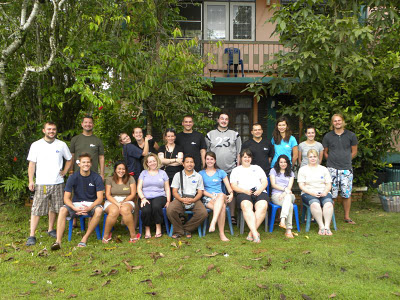 Our lovely group!

Katie Daly
Subscribe to our Blog
GVI on Instagram
Sorry:

- Instagram feed not found.
GVI on Facebook