Time for swimming and reading at Nyota!

Upon my arrival in Mombasa I was unsure as to what to expect, but I have been overwhelmed by the enthusiasm the kids have for learning new skills and improve things such as their reading.

Volunteers and kids enjoying the swimming pool at a local hotel
Last week we brought some of the students to a local swimming pool where we let the older ones play in the deep end while we taught some of the younger ones how to swim. Because their English is not as good as some of the older ones at times there was a slight language barrier, but they took instructions very well and were able to copy our leg movements. Turns out a lot of them were actually just too shy to talk to us in English and in the end were very keen to get our attention to show off how well they were doing.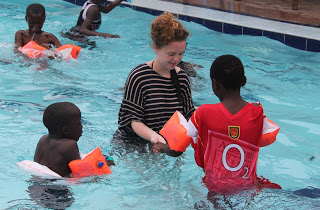 Volunteer Orla teaching students how to swim
I found the whole task of teaching them how to swim when they've had no experience before quite daunting, but it was an incredibly rewarding experience knowing that you've introduced something new to them.
Volunteers Anna and Orla practicing leg movements with the kids
Another activity we've been doing with the kids is doing some one on one reading in the mornings. The two girls I read with ask me on a daily basis about whether they can try reading the harder books. Although this is sometimes a challenge for them, they persevere and finish the books. It is also really nice to see them come out of their shell and grow more confident with their reading skills.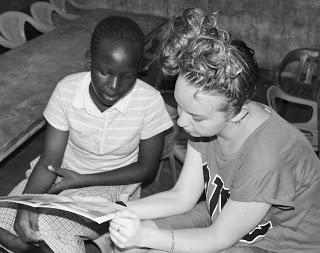 One on one reading
By Orla Nech