New open waters, spotting and sizing!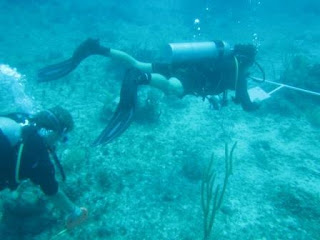 New week, new weather! The first boat of the phase went out… only one boat went out 
on Monday, but we´ll look on the bright side of things! The week turned into a diving 
bonanza with different people going out everyday, so no complaining on base.  
Since everyone could dive we have two newly qualified open water divers! Congrats 
Eric and Aaron (round of applause please!) More good diving news Marti and Mat 
started doing proper, hardcore fish monitoring as well as Michelle and Jonas doing coral 
monitoring. Eric has passed his fish test and is ready to start spotting and sizing! 
Jim saw the resident nurse shark of BBC and on Fun Dive Friday Sophie, Molly, Alex 
and Maria saw a Spotted Eagle Ray at Labrynth… Stephen did not see the ray, because 
he was asleep at the bottom of the ocean. At the end of the dive however, Alex had to be
hauled on to the boat due to a lack of fins.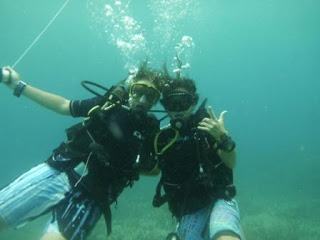 On the community side, Crystal, Stephen, Alex and Jessie went to Punta Allen for the 
weekly English lesson. As well as eating meat midweek… YUMMY!! Cristal has also 
been doing lots of bird watching and working on her spanish skills. 
Unfortunately Sisse left at the begining of the week. We all miss you so much and wish 
you were still here!
PS. Ben's mum, Ben says HI! (and he´s still alive)
Subscribe to our Blog
GVI on Instagram
Sorry:

- Instagram feed not found.
GVI on Facebook