Never a dull day on the marine program
By Georgia Carrington - Conservation Intern
5 years ago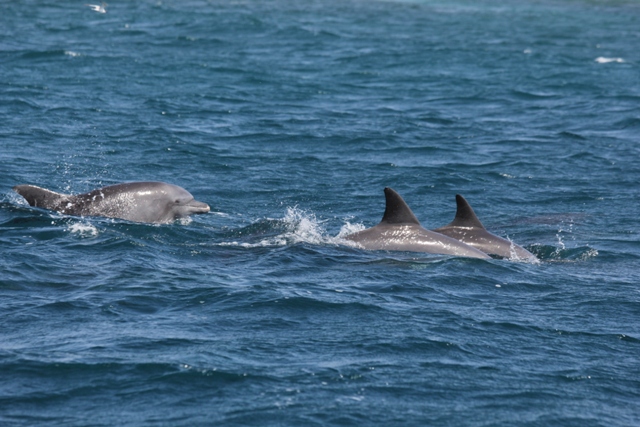 These two weeks have gone past so quickly! I don't want to leave the dolphins, rays, turtles, fish, corals or island already. I have got used to the way of life on the island already (lack of electricity, darkness, food & cooking, water fill ups, friendliness, goats with tiny kids, charging donkeys, breeze, warm sea… Paradise) and really enjoy it here! Water run and 5 am wake ups are a particular highlight.
Snorkeling along the reefs are amazing- there are so many colours from the vibrant corals of all forms. On top of this, there is so much life on them; a variety of species of colourful and variously shaped fish, bright starfish, and amazing shells with spirals all ways imaginable. I love learning and understanding so much more about them!
Being able to watch dolphins on almost a daily basis is fantastic! We have found big groups of about 30; in pairs and also humpback dolphins with a variety of activities and been able to watch them for hours.
They look so elegant in the water and can glide, jump and play with such grace. I really enjoy doing behaviour surveys as compared to watching the dolphins and trying to identify them. We try to follow them for a few hours studying their behaviour and watching their every change in activity and movements.
The days we don't see dolphins have been filled with other mega fauna sightings such as jumping rays, beautiful snorkels and bobbing turtles. We have been so lucky!
Georgia Carrington – Conservation Intern