More English Classes in El Cocal
This week we introduced more English classes at GVI's community center in El Cocal. We now offer daily morning and afternoon classes for both Kids and Adults. This means students receive more one on one attention and smaller class sizes, helping them to learn English much faster.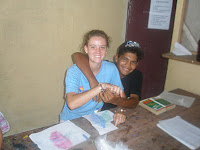 Moises, aged 16, has been our star performer in the newly introduced English for children classes. He has received some fantastic one on one class from our volunteer, Sofia. Sofia has taught him basic greetings, food vocabulary and how to form basic questions. Moises has enjoyed the classes so much that he even came after he had been fishing since 3am!
And with more and more children coming to the community center its looking like our English program is going to become more and more successful every week!
Subscribe to our Blog
GVI on Instagram
Sorry:

- Instagram feed not found.
GVI on Facebook